Mahoning Dems offer free ride to rally on SB5; Kasich says he's not anti-union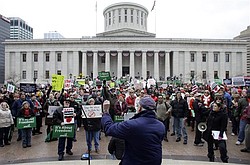 AP

Photo
Protestors in opposition of Senate Bill 5 gather at the Ohio Statehouse, Saturday, Feb. 26, 2011, in Columbus, Ohio. The bill would strip public employees of collective bargaining rights.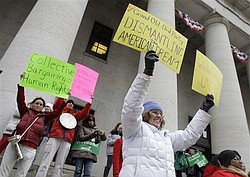 AP

Photo
Margo Kernen, right, of Kent, protests against a bill at the Ohio Statehouse Saturday, Feb. 26, 2011, in Columbus, Ohio, that would strip public employees of collective bargaining rights.
Staff and wire report
YOUNGSTOWN
The Ohio Senate's Insurance, Commerce and Labor Committee is expected Tuesday to approve a bill that eliminates most collective bargaining for public employees.
The Mahoning County Democratic Party is offering a free ride Tuesday on a chartered bus to those wanting to protest the bill at the Statehouse in Columbus, where the committee vote will be taken.
The bus will leave at 6:30 a.m. from party headquarters at 3321 Mahoning Ave. in Youngstown.
The committee hearing is to start at 9 a.m.
Thousands of protesters have rallied in and outside the Statehouse during the past few weeks, including one Saturday.
Also, about 700 protesters lined state Route 193 in Vienna on Thursday to protest the bill while Gov. John Kasich, a Republican, spoke at a hangar at the Youngstown-Warren Regional Airport during a Youngstown/Warren Regional Chamber luncheon.
The Republican-controlled state Senate is making changes to the bill so enough of its members will get the bill out of committee Tuesday and to the floor for a full Senate vote Thursday, according to the Associated Press.
Democratic senators have urged Republicans to postpone a vote on the bill.
Meanwhile, Kasich says he's against joblessness, not unions, and is working on a state budget proposal aimed at creating jobs and economic growth.
The Republican worked on his budget Saturday as people rallied nearby at the Statehouse to protest Senate Bill 5, which would limit unions' collective bargaining rights, The Columbus Dispatch reported.
"I'm not anti-union," Kasich told the newspaper. "I think unions are an important part of the American fabric, but what we're doing here is basically to start sticking up for taxpayers and private-sector workers who have made enormous sacrifices over the last decade."
Kasich said compensation for public employees has become more generous than in the private sector.
"It is very reasonable to have the same kind of provisions that private workers get," the governor said.