Fish Samaritan House seeks help to carry on its mission and to keep on trucking
The Vindicator (Youngstown)

Photo
Clarence Thigpen, director of Fish Samaritan House in Youngstown, stands next to the agency's 1999 Chevrolet 3500. The truck has more than 172, 000 miles and is on its last leg.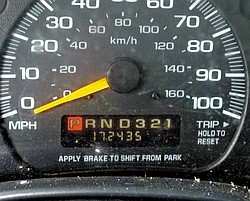 The Vindicator (Youngstown)

Photo
The Fish Samaritan House's 1999 Chevrolet 3500 has more than 172, 000 miles.
FISH SAMARITAN HOUSE
Location: 17 Kenmore Ave., Youngstown
Hours: Monday-Thursday, 9 a.m. to 3:30 p.m., Friday, 9 a.m. to 2:30 p.m.
Telephone: 330-746-4190
Donations: Food, clothing, furniture, appliances and other household items. Call for pickup requests. All donations are tax deductible.
By Karl Henkel
YOUNGSTOWN
Fish Samaritan House's truck isn't dead yet, but it's definitely seen better days.
"It's on its last legs," board president Linda Lee said.
The truck, a 1999 Chevrolet 3500, was out of commission recently for five days because it needed a new fuel pump, and the day it returned to the roads, an electrical malfunction put it back in the garage for one and one-half days, director Clarence Thigpen said.
"We put a fuel pump in the other day," he said. "We got down the street, and it died."
Lee said the truck is the "lifeline" of the house, one of the only in the area to pick up donated items directly from contributors.
"Without the truck, we can't do anything," Thigpen said.
Thigpen said the truck has been extremely reliable over the years, and it was only recently that the truck, with 172,000 miles and counting — all for the House — began to experience problems.
"It's done its job," he said.
The Fish, as it's commonly called, has scheduled a fundraiser July 10 from 3 to 5 p.m. at the Vintage Estates, 7317 South Ave., to raise funds for either a new or used truck, which Lee estimated could cost anywhere from $20,000 to $70,000.
"We're kind of hoping to find a good used truck," she said.
Fish Samaritan House, 17 Kenmore Ave., is both a food pantry and a thrift store that helps those in need with emergency food, clothing and other household items, and has since 1968.
Thigpen is hoping the truck lasts until The Fish can secure the funds for a new one, hopefully of similar size.
"A smaller truck would take too many trips for pickups," Thigpen said. "We want to go a little bigger if we could."
For now, Thigpen said the House is trying to make up for lost time by rescheduling as many of the pickups as possible, and will keep working the truck he calls "baby," for as long as it will last.
"There's no guarantees," Thigpen said. "We're going to get up every morning and crank it out and try to get through."