'The Crucible' is beautifully designed production at YSU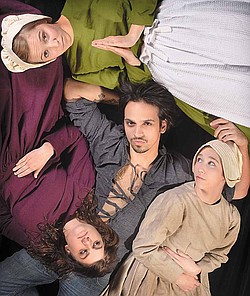 Photo
The cast of Youngstown State University Theater's production of "The Crucible," which opens Thursday.
IF YOU GO:
What: "The Crucible
When: 8 p.m. Thursday, Friday and Saturday, and March 4 and 5; and 3 p.m. Sunday and March 6.
Where: Ford Theater, Bliss Hall, Wick Avenue, Youngstown State University
Tickets: $10 ($5 for students and seniors); call 330-941-3105
YOUNGSTOWN
Director W. Rick Schilling serves up one dazzling tableau after another in the visually sumptuous Youngstown State University production of Arthur Miller's "The Crucible." From the opening scene in which various townsfolk stand in the background as silent witnesses (or accusers?), Schilling's human tableaux remain one of the most striking elements in this exceedingly handsome show. Scenic designer/technical coordinator John Murphy and costume designer Jane Shanabarger do yeoman work as well. The sets and costumes are of such a professional, big-ticket caliber that you might think you're watching a "Crucible" at Lincoln Center's Vivian Beaumont Theater. Not since Michael Dempsey's Youngstown Playhouse mounting of "Macbeth" last October has an area theater staged such a creatively ambitious and technically accomplished tour-de-theater.
Written at the apex of Sen. Joseph McCarthy's crusade to rid America of communists and communist sympathizers in the early 1950s, "The Crucible" remains as spookily relevant as it was 50-plus years ago. Surprisingly, Schilling and assistant director Dennis Henneman have chosen to downplay the script's political allegory. In this "Crucible," what you see is what you get: a bona-fide witch hunt in late 17th-century New England. If most productions of the play make the connection between Salem, Mass., witch- hysteria and Eisenhower-era communist-hysteria palpable to the point of obviousness, this one opts for a more literal approach. It isn't until leaving the theater that the text, uh, subtext truly emerges.
Good-guy farmer John Proctor (Anthony Genovese) and his devoted wife Elizabeth (Courtney Auman, wonderfully empathetic) are the principal victims of the witch-mania infecting their bucolic Massachusetts Bay town. Elizabeth is falsely accused of witchcraft by vengeful teen nymphet Abigail (Kaleigh Locketti) who's still carrying a torch for John after their short-lived affair.
Everything leads to the courtroom where Deputy Governor Danforth (Nate Beagle, suitably fiery), a pompous, self-serving hypocrite, unleashes the furies of hell on the Proctors and anyone willing to defend them (including the terminally conflicted Rev. John Hale, powerfully played by Cheney Morgan).
It's not surprising that a play as chock full of florid speechifying as "The Crucible" would seem a tad long-winded to contemporary ears (and derrieres). Clocking in at more than 21/2 hours, it does tend to spin its wheels at times. And the acting is sometimes as uneven as the lighting effects, which camouflaged much of the action in distracting shadows on opening night.
Except for Beagle and Morgan who bring a dynamic urgency to their roles, the female cast members are uniformly stronger than their male counterparts. Auman, Locketti, Kathie Steeb (Ann Putnam) and Jessica Schmidt (Mary Warren) are the standouts on the distaff side.
As impressive as Shanabarger's costumes are, the makeup seems to have been applied with a trowel. At times the actors resemble Ash Wednesday penitents mauled by an overzealous priest. Also, the period-appropriate wigs for some of the male cast members look a trifle silly, even within the context of 17th century life.
Yet, even with its flaws, this "Crucible" remains a singular artistic achievement. I doubt whether we'll see a more beautifully designed — or strikingly realized — production anywhere this season.
"The Crucible" runs through March 6 at Bliss Hall's Ford Theater. For reservations, call 330-941-3105.