60th annual HBA event offers a taste of spring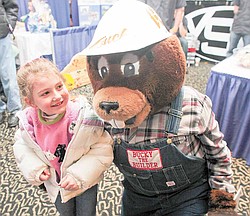 Special to the Vindicator

Photo
Megan Miller, 5, of Salem gets a hug from Bucky the Builder, the beaver mascot of the Home Builders-Remodelers Association of the Mahoning Valley. Jake Amon of Poland portrayed Bucky at the 60th annual HBA Home and Garden Show, which continues from 10 a.m. to 6 p.m. today at Mr. Anthony's Banquet Center in Boardman.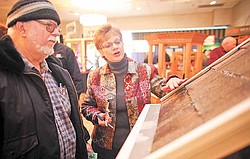 Special to the Vindicator

Photo
Debbie Martin of Leroy Township explains the Leaf Filter gutter protection system to Dennis Keith of Youngstown at the 60th annual HBA Home and Garden Show at Mr. Anthony's in Boardman Saturday.
By Sean Barron
BOARDMAN
It might be only late February, but it's not too early to see daffodils and tulips surrounded by mulch and complemented by hyacinths and forsythias in bloom.
Yes, everything is indoors, but the flowers serve as a pleasant prelude for what's to come outdoors in just a few weeks.
They also lend a colorful, eye-pleasing element to the Home Builders-Remodelers Association of Mahoning Valley's 60th annual Home and Garden show at Mr. Anthony's Banquet Center, 7440 South Ave.
The free event, which began Friday, ends today. Today's show is from 10 a.m. to 6 p.m.
The show is set up to let people talk to professional contractors and vendors about a diverse array of home-improvement needs such as insulation, duct and gutter cleaning, masonry, kitchen and bathroom remodeling, room additions, countertops, heating and cooling, carpet and furniture cleaning and cabinetry.
Also offered were tips on dealing with common basement problems, including water seepage, mold and mildew as well as ideas for roofing, siding and windows.
Anyone interested in energy-efficient, double-hung windows likely stopped to visit with Bob Lawton, a salesman for Window World of Boardman.
Such windows tilt inward, making them easier to clean, and have durable glass that can decrease customers' heating bills up to 35 percent, Lawton explained. In addition, he said, they are quiet and improve a home's look.
"It's great when people come by and say, 'We're warm this winter,'" added Lawton, who was hired in
October 2004 after having retired from selling heavy-duty truck equipment. "We have a product that is in demand," he said.
Danielle Jackson was on hand for those interested in something much bigger than windows: home additions.
"We're enjoying an upswing with remodeling and sunrooms," said Jackson, marketing manager for Joe Koch Construction Inc.
The sluggish economy has been good for the 30-year-old Austintown business because more people are trading in vacations for more time at home, she said.
Sales are up this time of year largely because people are getting ideas for sunrooms, which typically cost between $10,000 and $50,000, Jackson continued, adding that certain ones come with a 50-year guarantee.
Attendees who simply wanted to add a personal touch to common items already in their homes needed to look no further than Vonda Schall, a local independent consultant for Johns-town, Ohio-based Thirty-One, a home-based business established in 2003.
The business specializes in allowing people to personalize tote bags, bins and boxes, for example. Customers choose the font, color and message to be placed on the item, Schall said, adding that Thirty-One also conducts house parties as well as retail and Internet sales.
Ninety local and regional vendors, including 18 new ones, make up this year's show, noted Becki Chaffee, an HBA business administrator.
Spring and early summer often mean a greater likelihood of severe weather and home damage — and a greater possibility of unscrupulous contractors, Chaffee said.
People who suffer roof or other damage should be wary of door-to-door contractors who promise to make repairs but ask for money up front, she warned.
Anyone who encounters such contractors is encouraged to ask if they're insured and to check their rating with the Better Business Bureau, she noted. It's also advisable to contact the HBA, BBB or the Ohio Attorney General's Office of Consumer Affairs to see if any complaints have been lodged, Chaffee noted.
"Always go with your gut," she added. "Be suspicious at first."
More like this from vindy.com