Slocum: Penguins lacked effort in loss to Green Bay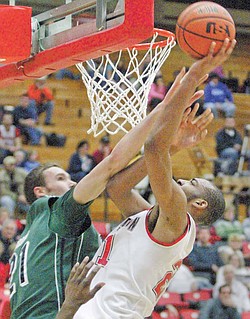 Photo
Youngstown State's Damian Eargle (21) shoots over Alec Brown of Green Bay in fi rst-half action of Thursday's Horizon League contest at YSU's Beeghly Center. Eagle posted 19 points and seven rebounds for the Penguins, who came up short against the Phoenix, 71-60.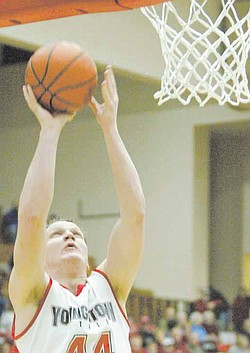 Photo
Youngstown State's Vytas Sulskis during a Horizon League contest at YSU's Beeghly Center on Feb. 24.
Green Bay 71
YSU 60
Next: Youngstown State vs. Milwaukee, Saturday, 1:05 p.m.
By Jon Moffett
YOUNGSTOWN
If the Youngstown State men's basketball team is going to put a run together before the Horizon League tournament, they'd better do it in a hurry.
Coach Jerry Slocum said the team lacked the effort and will to win in its game against Green Bay at Beeghly Center on Thursday. The Penguins lost 71-60 and never seemed to have a rhythm.
"We didn't have a good effort tonight," Slocum said. "It's as simple as that. We did not play hard and it was our worst effort we've had in the last three weeks."
The Penguins (9-19, 2-15 Horizon League) had a hard time scoring. They shot 37 percent from the field and 67 percent at the foul line. But the Penguins went 1-of-6 at the line in the first half. They made all nine of their attempts after the intermission.
Freshman guard Kendrick Perry led the Penguins, who had spurts of life in the second half, with 19 points. Sophomore forward and Warren Harding High graduate Damian Eargle also had 19 points, adding four blocks.
Eargle now has 85 blocked shots on the year, which puts him in second place for the most in school history in a single season. He surpassed Ricky Tunstall's 83 blocks in the 1983-84 season. Tunstall also holds the record with 138 blocks the previous season.
Perry said it is both disappointing and frustrating to lose at home, especially after an emotional 83-76 win over Bowling Green a few nights earlier.
"I think we were just content," said Perry, who also had three rebounds, two assists and two steals. "I think we got on our little run and then we got lazy. We didn't get back in transition, they scored a couple of easy buckets and then we were never able to come back from it."
The Penguins' run came with 15:01 left in the second half. Down 42-27, YSU went on a 7-0 run to cut the lead to eight. But the Phoenix (14-16, 8-9) stifled any comeback attempt by the Penguin offense to defeat them for the second time this season.
"We dug ourselves a hole early, and then it's hard to climb out of that hole when you get so far deep at the beginning of the game," Perry said. "We just didn't come tonight. We didn't show up.
"We were content with our win over Bowling Green and we just thought we were going to come in here and get this win," he added. "But they came with a lot more energy. They just wanted it more."
Slocum said it's disappointing a performance like Thursday's came so late in the year, and so close to when the Penguins have to focus on the conference tournament. YSU has one game, a home contest against Milwaukee, before heading to the tournament.
"We've played some very, very good basketball this month and to take a step back tonight effort-wise was very disappointing," Slocum said.