Austintown teacher Michelle Best receives state award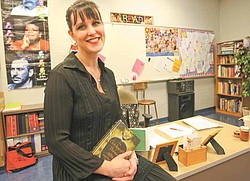 Photo
Austintown Middle School teacher Michelle Best recently won an award from OCTELA, The Ohio Council of Teachers of English Language Arts. Best will receive the award at a conference March 4.
By Kristine Gill
AUSTINTOWN
Austintown Middle School teacher Michelle Best doesn't want to become complacent or comfortable.
"Sitting still, being stagnant, that just makes me cringe," said the 35-year-old integrated-language-arts teacher.
Having traveled to Hawaii and Mississippi with grants from the National Endowment for the Humanities to learn about Pearl Harbor survivors and the origin of blues music, she always finds herself wanting to learn more and going to new places to do so.
She's applying for a similar grant to travel to Connecticut this summer to learn about the history of jazz.
Best doesn't sit still in class either, walking slowly between tables as she reads to her students at the beginning of each period.
"When the kids say, 'No, you have to read more,' that's great. I know I've got them," Best said.
Best is the recipient of the 2010-11 school year Outstanding Language Arts Educator award through the Ohio Council of Teachers of English Language Arts, or OCTELA. She will receive the award at a conference in Columbus next Friday.
Best was nominated by a fellow OCTELA member, president-elect Karen Carney, a literacy coach at Campbell Middle School. It was Best's statement about being a mother that convinced Carney she had nominated the right teacher.
"I truly feel that was such a significant statement about teaching and the analogy to motherhood," Carney said. "Very often, the last thing you get to do is teach. You have to be all those other things first. ... She's just incredible."
Best is the mother of four children and wrote in her application that they have shaped her into the teacher she is today. "I cannot look at a child without seeing traits of my own children in them, and I think of how I would want them to be treated. There is nothing else I would rather do in this life than to be a mother and a teacher."
Best has taught at AMS for 12 years and spent her first as a special-education teacher. She is a Hubbard native and graduated from Youngstown State University with her undergraduate degree in teaching. She earned her master's in administration at Westminster College in Pennsylvania.
Best and her students frequently correspond with a class in Akko, Israel, as part of the International Book Sharing Project, which pairs American and Israeli schools. She also serves as a regional representative for literary professionals in five Great Lakes states in the International Reading Association, a nonprofit network promoting worldwide literacy.
Best enjoys teaching eighth-graders.
"I love them. Oh my gosh, they are such a riot," she said. "They get your humor, and they're like little adults, too."
"She's always really bubbly," said eighth-grader Bailey Varga. "She's really relatable and easy to talk to."
Fellow student Jared Latone agreed.
"We tell a lot of stories in here," he said. "We can have fun but still get the learning aspect."
In her spare time, Best attends theater productions in Cleveland as well as performances at the Youngstown Symphony. She plays the drums in her church praise band through Corner House Christian Church in Hubbard.
"The girl didn't show up to practice one day, so my sister said, 'Why don't you tap something out?' said Best, who was first snare drum in the Hubbard High School marching band. "I had pencils; I didn't even have drumsticks."
Best said she was proud to have won the award through OCTELA this year.
"For somebody else to look at what you do and see the value in it ... it's pretty amazing," she said.