Tigers send nine to district meet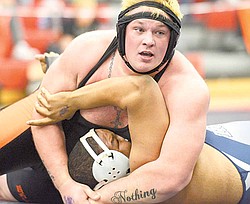 The Vindicator (Youngstown)

Photo
Howland's Cody Reesman defeated Sam Sims of Twinsburg in the 285-pound weight class match at the Division 1 sectional wrestling tournament at Austintown Fitch High School Friday night.
Howland has qualified nine wrestlers, including sectional champions J.R. Perry (112) and Bryce Tricker (160), for this weekend's Division I district tournament at Mentor.
Austintown Fitch advanced five and Boardman had two winners in juniors John Dillon (119, 33-1) and Nico Graziani (152, 31-7), but the Spartans are also sending sophomores Nick Mancini (21-5) and Peter Ryan (20-19).
Boardman's four are repeat qualifiers. Dillon finished fourth at state at 125 a year ago — the Spartans' only state placer in 2010.
"Those four did what they were supposed to do," coach Dom Mancini said. "They wrestled to their potential."
The coach's son, Nick, lost to Solon's Brandon Thompson who was No. 1 in the state.
"We knew he'd be a tough match," Dom Mancini said of Thompson, "but we would like it to have been a little closer," the coach said of the 11-0 major decision by Thompson, also a sophomore.
"Graziani wrestled tough," Mancini said. "He beat some tough kids, including a 10-1 major decision over Madison's Jake Montgomery.
Fitch's five are Craig Snovak (130, 14-19), Camran Rezapourian (160, 27-14), Jamie Jameson (171, 39-5), Korey Balog (189, 26-14), Lennie McGeachy (285, 29-13) and alternate Rick Ague (103, 22-11).
Coach Brett Powell said that the Falcons, as a team, finished last at the sectional in 2010 when it qualified three seniors to the district.
"That's a reversal of fortune, but the good thing is that all [these new guys] are underclassmen," Powell said of all but Snovak, a senior.
"They turned it on at the end and peaked at the right time," Powell said of the sectional.
"I thought if we got four we'd be doing well, but getting Craig was a bonus," Powell said. "Craig struggled all season, then he turned everything around. He didn't count himself out when it counted. What would have probably been a disappointing season turned into a great finish," he said of Snovak, a district alternate in 2010.
Howland also has two alternates: Danoto Natale (119) and Alex Cornicelli (130).