Struthers faces tall task in tourney warmup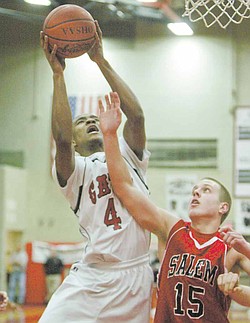 Photo
Will Clark of Struthers, left, shoots around Salem's Taylor Fredrickson during Tuesday's game at Struthers.
HIGH SCHOOL PREVIEW
High school basketball
Matchup: Struthers (18-1) vs. Huntington Prep Express (21-3).
When: Friday, 7 p.m. Doors open at 5:15 p.m.
Where: Struthers Fieldhouse.
Tickets: $6 and $4. Pre-sale today and Friday from 9 a.m.-3 p.m. at Struthers High School.
STRUTHERS
The Struthers boys basketball team has had an impressive season, winning 18 of 19 games. But the Wildcats will face their toughest test of the regular season on Friday night, when they play host to nationally ranked Huntington (W. Va.) Prep at the Struthers Fieldhouse.
"The kids are there [Huntington Prep] to play basketball," Struthers coach Joe Savko said.
Huntington Prep (21-3) is ranked 16th nationally by MaxPreps.com.
Jeremiah Davis of Muncie, Ind., a 6-foot-3 senior, and Charles Lee of Milwaukee, Wis., have the closest connections — Davis has signed with the University of Cincinnati, while the 5-8 Lee has signed with Cleveland State.
Junior Negus Webster-Chan (6-7) from Toronto has verbally committed to Louisville, while 7-4 senior Sim Bhullar (Toronto), 6-9 senior Ibrahima Djimde (Mali, Africa) and 6-5 senior Maurice Aniefiok (Nigeria) are being recruited by schools such as USC, UCLA, Pitt, Georgetown, West Virginia and Syracuse.
"We're going to play our game and see what happens," said Struthers coach Joe Savko. "We'll figure out what we could do and can't do against them. We'll just go out and play and see what happens."
The game was arranged with the help of former Struthers standout Rick McFadden, who is an assistant men's basketball coach at Akron.
"Through recruiting, they're always checking prep schools, so I'm sure he's friends with them," Savko said.
"Before we got the game, they didn't have the 7-4 or 6-9 guys," Savko said of Huntington Prep. "They came a couple games into the season."
Did Struthers get more than it bargained for?
"A little bit," Savko said, "but we'll use it as a measuring stick.
"We won't see much like that throughout the season," Savko said. "We won't see the really good athletes or top players, so we're just trying to measure ourselves against a player like that."
Struthers' lineup will include Jake Jacubec at point guard, brother Nate Jacubec and Ja'Miere Brown as shooting guards and Adam Ryczaj and Jordan Ryan as forwards.
Subs are Kevin McDonald, Jermaine Brooks and Wil Clark. Ryan is the tallest at 6-5.
Savko can't be certain of a sellout, but he knows the matchup will draw well.
"Our whole town will be there and I imagine people from the community [outside Struthers] will want to see a very good team. It'll be pretty close [to a sellout]."
After Friday, the top-seeded Wildcats have five days before they open Division II tournament action at Boardman against the West Branch-Salem winner.
Struthers lost in the district semifinals to Mooney in 2010.