Speakers stress benefits of shale drilling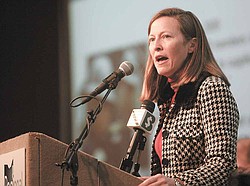 The Vindicator (Youngstown)

Photo
Kathryn Klaber, executive director of the Marcellus Shale Coalition, discusses the Mahoning Valley's role as a producer of natural gas from the Marcellus Shale geological formation at the Regional Chamber breakfast at the Marionite center.
YOUNGSTOWN
21,778.
That's the number of jobs Marcellus Shale directly added to the Pennsylvania economy in 2009. Indirectly, that number is estimated to be more than 44,000.
By the end of this year, it's expected to be more than 111,000, according to a study by the Marcellus Shale Coalition.
Rick Stouffer, editor of Gas Business Briefing, said the Utica Shale, which lies partly beneath eastern Ohio, has potential to be just as big. Stouffer spoke briefly Wednesday at the Youngstown/Warren Regional Chamber's Economic Forecast Breakfast at the Maronite Center.
"Pennsylvania has definitely benefited," Stouffer said. "I hope they continue to benefit, and I hope Ohio can jump on board with the Utica or Marcellus and benefit, too."
The Marcellus and Utica shales are geological formations that produce natural gas. The Marcellus Shale stretches underneath large portions of West Virginia, Pennsylvania, New York and Ohio. The Utica lies beneath it.
Kathryn Klaber, president and executive director of the Marcellus Shale Coalition, was keynote speaker at the breakfast.
The coalition, founded in 2008, represents 162 companies that drill in the Marcellus Shale.
She said the Marcellus Shale has 46 active wells in Ohio and the Utica has 10, but that number is expected to increase.
Stouffer said the number of wells throughout the Marcellus Shale has spiked in the past few years.
In 2008, there were 193 wells. In 2009, that number increased to 763. Last year, there were 1,454. Permit numbers are increasing as well. Currently, there have been 3,314 drilling permits issued.
Stouffer said right now, the Marcellus produces 2.1 billion cubic feet of natural gas per day. By the end of the year, that number is expected to reach 2.9 billion.
Klaber said the coalition is focusing on long-term development of resources, protecting the environment and addressing landowner, government and public issues.
She also defended hydraulic fracturing, a method in which water, sand and chemicals are injected into rock, causing it to fracture.
Hydraulic fracturing, or fracking, recently has caused controversy between drilling companies and environmental groups, which are concerned about water and air pollution resulting from the process. Fracking has been in use since 1949.
The EPA recently said it was planning to study the matter.
Travis Windle, spokesman for the Marcellus Shale Coalition, said the coalition welcomes the study and that they have worked hard with regulators to make sure hydraulic fracturing is safe.
"It's very well-regulated by the government and will only be more so over time," Klaber said.
Although there is a glut of natural gas from the Marcellus Shale, Stouffer said there is huge demand for natural gas on the East Coast, especially in New York.