Judicial release granted in pedestrian dragging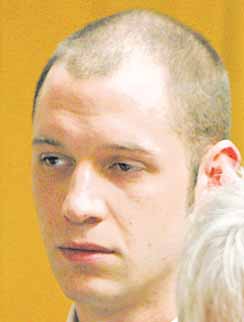 Photo
YOUNGSTOWN
The man responsible for the death of a 22-year-old pedestrian after he hit the man and dragged him under his car will be released from prison on probation after serving nine months in prison.
A judicial-release hearing for Bryce D. Burke, 28, of Mercedes Place, was Wednesday before Judge James C. Evans of Mahoning County Common Pleas Court. Burke, through his attorney J. Gerald Ingram, filed a motion for judicial release Dec. 3.
Rosemarie Culp, mother of victim Andrew Culp of Columbiana, pleaded with the court asking that Burke be made to serve the entire three-year sentence imposed on him in May. She came to the court armed with signatures from 80 people who wanted to see Burke remain behind bars.
"I mean no disrespect to anyone in this courtroom, but honestly, your honor, would a nine-month sentence be considered justice if this were your child. ... Let him serve his three years in prison," Rosemary Culp said.
Ingram told the court Burke does have a great support system and a good prison record that would make him a great candidate for probation.
Judge Evans said he has received numerous letters from various people in support of Burke and numerous letters from others opposed to any judicial release for the convicted man.
"I have read all those letters and have digested them quite fairly. I will say this, there is no remedy that will satisfy both sides. ... I understand the suffering that both sides have had and will continue to have," Judge Evans said.
Mark L. Hockensmith, an assistant county prosecutor, had filed a response to Burke's request for release saying he would fulfill the plea agreement by not opposing Burke's release, provided Burke hasn't violated any prison regulations.
Judge Evans reminded those in the courtroom that Burke is within his rights to request judicial release, and he said the Adult Parole Authority recommended judicial release if Burke demonstrates good behavior while incarcerated. The judge said Burke's prison record is unblemished.
Judge Evans granted Burke's request placing him on probation for five years to be supervised by the APA. Burke will be required to spend up to the first six months of his release in a community-based correctional facility. The judge reminded Burke that any violation of his probation would result in a return to prison.
Burke struck the victim, Andrew Culp, 22, of Columbiana, who was a pedestrian on Midlothian Boulevard just west of Zedaker Street on the city's South Side on Nov. 29, 2008, and dragged him under the car he was driving, police said.
Burke was in the McDonald's drive-through at South Avenue and Midlothian Boulevard when another motorist told him there was a body under the car he was driving, police said.
Culp was found on the road about two blocks from McDonald's, and Burke surrendered to detectives a few days later.