Diesel-fuel prices continue to climb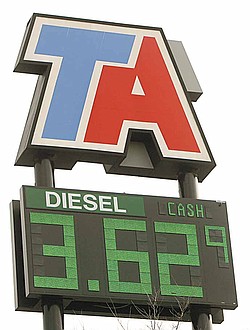 The Vindicator (Youngstown)

Photo
Diesel prices have been increasing. A sign lists diesel prices.
YOUNGSTOWN
If you think you spend a lot of money on fuel, you should see the bill at local trucking companies.
Though it can vary, drivers at most trucking companies travel about 500 miles each day and get an average of 7 miles to the gallon, said Sean McNally, spokesman for the American Trucking Association. With diesel prices averaging $3.52 per gallon across the Midwest, that brings the total fuel bill to more than $250 per truck per day.
"It kills us in trucking," said Dave Ables, vice president of operations at Falcon Transport, which has a location in Hermitage, Pa. "Even though we have a fuel surcharge, we can't ever make up our losses from diesel."
And the price of diesel fuel is increasing.
That price affects the amount we pay for products and services and the costs of mass transportation — including getting the kids to and from school each day if they ride the school bus.
After peaking at about $4.30 per gallon across the Midwest in August 2008, diesel prices began a sharp decline and reached a low of about $2 between February and April of 2009. Since then, the price has fluctuated but shows a steady increase overall, according to data from the U.S. Energy Information Administration.
On Tuesday, the retail price of diesel fuel averaged about $3.52 per gallon across the Midwest. Compare that with Jan. 31, when the average retail price per gallon was about $3.40, and last year, when it was about $2.80, according to the EIA.
Tuesday, the price of crude oil on the New York Mercantile Exchange was $93.57 per barrel, an increase of $9.25 from a week ago and $13.41 from a year ago.
To help with the increases, Ables said Falcon's trucks have fuel-optimization software that sends drivers directions with the shortest routes. It shows them which truck stops have the best diesel prices and how much fuel drivers should purchase at each stop.
Falcon Transport has about 700 trucks that get about 5.5 miles per gallon, Ables said.
Ables said most trucking companies — his included — have made agreements with many truck stops for bulk discounted fuel rates.
Those who drive diesel-powered cars are also dealing with the increase in fuel costs. On Monday, the average price of unleaded gasoline was about $3.14, or 38 cents less than a gallon of diesel, according to the EIA.
In the American market, Volkswagen, Mercedes-Benz, BMW and Audi offer cars and crossover vehicles with diesel engines. Some automakers, including Dodge, Ford, Chevrolet and GMC, produce diesel-powered pickup trucks and vans.
This week, rumors spread on the Internet that General Motors was planning to assemble diesel-powered Chevrolet Cruze models at its Lordstown plant. GM denied the claims.
Because diesel fuel is more expensive than gasoline right now, GM spokesman Tom Read said the company isn't sure there is demand for a diesel-powered Cruze in the U.S., even though cars with diesel engines are about 25 percent more fuel-efficient than cars with gasoline engines.
Drivers of those diesel-powered cars and pickups also do not get the bulk-rate discounts that schools and trucking companies can get because they don't typically buy large quantities of diesel.
Even with the discounts, some of the larger school districts in Mahoning County are starting to feel the pinch.
Rich Archer, business manager for the Canfield Local School District, said the school buses in his district use about 60,000 gallons of diesel fuel each year. At the school's bulk discounted rate, the most recent fuel shipment cost $3.10 per gallon. Last year the shipments ranged from $1.79 to $2.59 per gallon.
Archer said that with the amount of fuel the district uses, the price increase between this year and last year — about $78,000 — is more than the salary equivalent of a full-time teacher and an aide.
"It's certainly affecting our bottom line. No doubt about that," Archer said.
He said the district calls about five suppliers to get the best price for each shipment and is looking into joining a consortium for better buying power.
The school district also might have to cut back on transportation for high school students, Archer said.
At South Range, Paul Cubick, director of transportation, said the school district hasn't had much difficulty with the diesel prices because it has slowly made cutbacks over the past several years.
The district offers fewer field trips and is driving 25 miles less each day, a feat partially achieved by cutting one elementary school bus and dividing its route among other buses.
The Western Reserve Transit Authority also has taken precautions to deal with rising diesel prices.
Jim Ferraro, WRTA executive director, said the public transportation system has entered into a consortium with about 10 other transit authorities in an effort to control costs.
"We had to do it because we were concerned with the way [diesel prices] were rising and how it would affect us in the end run," Ferraro said.
The consortium has a rate of $2.87 per gallon until the end of the year.
Ferraro said WRTA will keep its fares at the current prices and will be looking into more alternative fuels.
Because unleaded fuel prices often rise as diesel rises, Greyhound spokesman Timothy Stokes said the increase in price usually results in an increase in passengers.
"The passenger-count increase actually offsets the increase in the cost of diesel fuel for us," Stokes said.
Though many restaurants and grocers haven't felt the increases yet, they also are bracing for the effects.
"We haven't seen a rise on our fuel charge yet, but that's not to say it isn't going to happen," said Andy Parker, grocery manager at the Western Reserve Sparkle Market in Boardman.
Sean Kushma, chef at Scarsella's, an Italian-American restaurant in Youngstown, said he is expecting to see the increase in diesel prices hit the restaurant by summer.
During the last spike in diesel prices a few years ago, Kushma said his suppliers started adding a fuel charge to shipments.
The amount charged usually depends on distance. Charges from local suppliers range from about $2 to $4. Suppliers from Cleveland sometimes charge between $6 and $7. Kushma said he expects to see those charges increase as the diesel price rises.
Kushma said the restaurant doesn't plan to increase menu prices, but with the rising cost of food and diesel fuel, it's difficult to guarantee.
"We try to do our best to keep prices the same. It just depends how bad we get hit," he said.