Republican Rove makes case in Niles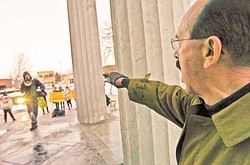 The Vindicator (Youngstown)

Photo
Stephen Farrell of Warren, right, who attended an event with Republican political strategist Karl Rove, exchanges words with demonstrators who shouted at and insulted those going inside to the dinner.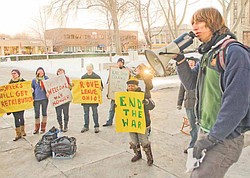 The Vindicator (Youngstown)

Photo
Robert Heltzel of Niles, right, leads a group of anti-war protesters who yelled at and heckled those attending the Republican dinner with Rove. Some of the protesters opened the main door to the event and tried to get inside. They were stopped by Niles police.
By DAVID SKOLNICK
NILES
Why did Karl Rove, a nationally-known Republican strategist, come to the Democratic-dominated Mahoning Valley?
"You can't win an argument unless you make an argument," Rove said Tuesday before his keynote speech at the 96th annual Mahoning Valley McKinley Club dinner in Niles.
"I'm happy to come to a blue part of the state to make the argument," he said.
Also, Rove said he promised Ohio Republican Party Chairman Kevin DeWine last year that he would speak at the 2011 McKinley dinner.
Rove met some opposition before and during his speech at the McKinley Club, which consists of Republicans in Mahoning, Trumbull and Columbiana counties.
A group of about 20 anti-war protesters shouted and hurled insults at those lined up to enter the $35-a-person dinner in the McKinley Memorial Auditorium.
Some, including Columbiana County Republican Chairman Dave Johnson and Columbiana County Commissioner Mike Halleck, yelled back.
The protesters attempted to disrupt Rove's speech.
Robert Heltzel, 25, of Niles, son of Trumbull County Commissioner Paul Heltzel, used a bullhorn while others chanted and banged metal cookie sheets together, making it challenging for some inside to hear Rove.
At one point, Heltzel and a few others opened the door to the auditorium, screamed "warmonger" at Rove and tried to get inside.
Rove brushed it off telling those at the dinner, "Don't worry."
Police inside the building as well as a few of the attendees, including Ohio Auditor Dave Yost, ran to the front door to stop the protesters from coming inside.
Heltzel said he and the others were told to leave by the police and they complied. There were no arrests.
The auditorium was packed with about 400 people listening to Rove, a political strategist involved in the major gains achieved by Republicans in last year's election. Rove also was a main strategist in President George W. Bush's wins in 2000 and 2004.
Rove may have some hard feelings about that first election in which Bush defeated then-Vice President Al Gore, a Democrat. Gore won the popular vote, but lost the electoral vote and the election.
Rove joked about Gore inventing the Internet and later tried to impersonate the former vice president when saying "lock box."
"God, he was annoying," Rove said of Gore to laughter.
Rove spoke for about an hour, spending almost half of it talking about President William McKinley, the nation's 25th president who was born in Niles on Jan. 29, 1843. The dinner is held annually in McKinley's honor.
Rove also criticized President Barack Obama, a Democrat, during his speech.
In particular, Rove spoke negatively of the president's $826 billion stimulus package and health-care overhaul, saying both are major failures.
"If we continue to go down this path, we'll end up like some Third World country unable to pay our debt," he said.
After the speech, Rove took questions from the audience.
In response to one about foreign aid, Rove said it is vitally important to the United States because it provides "leverage" when dealing with other countries.
When asked about efforts of Republicans in Wisconsin and Ohio, among other states, to eliminate collective bargaining for state employees, Rove said, "Public employee unions are a problem." It was a statement that received loud applause from the audience.
The dinner was closed to the media at Rove's request.
A reporter from The Vindicator was given a ticket from someone who paid for it, but didn't attend the dinner. Some of the event's organizers were told the reporter was attending with a ticket and didn't raise any objections.
More like this from vindy.com