Pavlik: 'My partying days are over'
Pavlik speaks to local media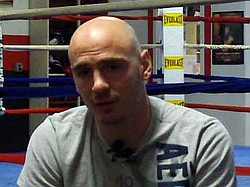 Video
Kelly Pavlik met with members of the local media at South Side Boxing Club on Tuesday, Feb. 22. This is that meeting in its entirety.
The Vindicator (Youngstown)

Photo
Boxer Kelly Pavlik talks to the media Tuesday at Jack Loews Southside Boxing Club.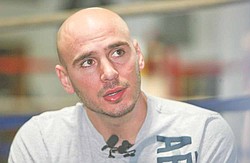 The Vindicator (Youngstown)

Photo
Boxer Kelly Pavlik talks to the media about his past couple of months in rehab and his future at Jack Loew's Southside Boxing Club.
By Joe Scalzo
YOUNGSTOWN
With equal parts honesty, confidence and defiance, former middleweight champion Kelly Pavlik spoke to the local media Tuesday afternoon for the first time since leaving rehab last month, telling reporters his "partying days are over" and he's eager to resume his boxing career.
The former middleweight champion, who spent 60 days in the Ranch Recovery Center in Desert Hot Springs, Calif., said his time in rehab gave him a chance to collect his thoughts and reorganize his life.
"I was having too much fun, put it that way," he said of his drinking. "I've been pro for 10 years now and I have a lot of things going on in my life and boxing's not going to be there for the rest of my life.
"It kind of got to the point where I said, 'I've got to get organized now and start settling down and paying attention to what I have going on.'"
Pavlik (36-2, 32 KOs), who spent a 20-day stint in the Betty Ford Center in January, admitted the decision to go to rehab wasn't his own, and that he fought it initially.
"It was more or less a sit-down with my family where they gave me their opinions," he said of the intervention. "I was against it at first, for the first hour. After that, I made the decision to go.
"Like I said in one [national] interview, I had to man up."
Unlike some rehab centers, the Ranch Recovery Center was no picnic. A story on SI.com described it as a "labor camp," with days starting at 6 a.m., afternoons filled with "ranch projects and evenings spent in AA meetings. Most of the campers had done jail time or spent time on the streets, Pavlik said.
Pavlik is still uncomfortable calling himself an alcoholic — "By the program standards, I was an alcoholic," he said — and admitted that while some parts of the program were helpful, other parts went too far. Specifically, he doesn't plan on giving up boxing, his friends, his team, his hometown or his hobbies.
"I became successful by being who I am," he said. "If you tell someone to drop everything they like and go find something new, that person's not going to be happy."
Pavlik said he's the same person he was six years ago, only with a much bigger spotlight. That spotlight led to hurtful rumors about his behavior — "Ninety-five percent of the things people said weren't true," he said — which, he said, led his family to believe he had a bigger problem than he did. Pavlik even stopped short of saying he'll never drink again, saying only that drinking "is the last thing on my mind."
"I've showed that I don't need it," he said.
Although Pavlik's career has sputtered over the past few years, marked by injuries, postponed fights, a pair of losses and victories over lesser-name fighters, he said his drinking didn't have a negative effect on his career.
"When I got in training, I was in training," he said. "It's easy to sit back and say I lost [the Bernard Hopkins fight] because I was partying and that would make me look better, but that's not the truth.
"Drinking, in my opinion, never affected any of my fights."
Pavlik, who looks bigger than he ever has, said he weighs 193 pounds and will never again fight at middleweight. He's hoping to fight at super middleweight on the undercard of the Manny Pacquaio-Shane Mosley fight on May 7 in Las Vegas.
Although he doesn't have an opponent for that date, he said he wants to meet a "durable, rugged fighter" and is planning to begin training camp eight weeks before that date even if he doesn't have an official fight.
When asked if he thinks he can be a world champion again, Pavlik nodded and said, "Yes, I can. I definitely have a lot of confidence and I've got a lot of hunger back since I've been in the gym."
More like this from vindy.com