Rally against SB5 at YSU

Gallery
YSU Rally against SB 5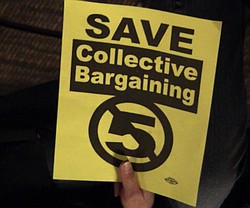 Video
Gov. John Kasich and Ohio Republicans continue to face opposition from unionized public workers. "Our friends who think we're idiots have woken a sleeping giant," said U.S. Rep. Tim Ryan of Niles, D-17th.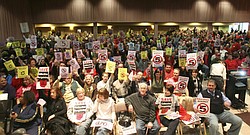 The Vindicator (Youngstown)

Photo
More than 200 people were turned away from the Chestnut Room in Youngstown State University's Kilcawley Center, which was packed with a standing-room-only crowd when the rally against Senate Bill 5 began. Firefighters, teachers and police were among crowd, which came out Monday to protest the bill that would eliminate collective bargaining for state employees.
Valley unions, lawmakers rally against Ohio Senate Bill 5
By Kristine Gill
YOUNGSTOWN
Gov. John Kasich and Ohio Republicans continue to face opposition from unionized public workers.
"Our friends who think we're idiots have woken a sleeping giant," said U.S. Rep. Tim Ryan of Niles, D-17th.
That sentiment was echoed by the more than 1,200 people who gathered Monday night at Youngstown State University to protest Ohio Senate Bill 5.
Protesters in the Chestnut Room of the Kilcawley Center wore face paint and carried signs that read "Educators against Senate Bill 5," shaking their heads and chanting "Kill the bill" at every opportunity.
The bill would eliminate collective bargaining for public employees. A fourth hearing has been scheduled for late this afternoon in Columbus, and thousands of protesters across the state again are expected to attend.
The governor supports the bill, saying it is one piece of a larger bill aimed at improving Ohio's economic climate.
Speakers, however, called the bill an attack on working-class America thinly veiled as an attempt to balance the budget.
"This, ladies and gentlemen, is a full-frontal assault, systematic, on the working class in Ohio," said state Sen. Capri Cafaro of Liberty, D-32nd, who also is Senate minority leader, the top position for Democratic senators. "Anyone who tells you this is about balancing the budget is simply not telling the truth."
The forum, headed by affiliates of the Ohio Education Association, the statewide teachers union, follows weeklong protests in Columbus where thousands gathered to rally against SB 5.
Randy Williams, president of Lodge 200 of the Fraternal Order of Police at YSU, called for solidarity during the rally.
"I ask you honestly, who is going to want these jobs in the future? Who is going to protect your family? Would you be willing to risk your life day after day for minimum wage?" he said to applause.
State Rep. Bob Hagan of Youngstown, D-60th, brought the crowd to its feet several times with lines such as "You can kiss my union a--" and "It's time to walk like an Egyptian, folks." He addressed police officers present, recalling the recent reports that Kasich called a fellow officer an idiot.
"I guess you guys already saw where Gov. Kasich put his foot again," Hagan said. "That's pretty difficult considering where his head is."
Brian Brennan, president of the YSU Association of Classified Employees, said he believes the rally will result in some sort of change and that the fight has brought union workers together.
"That's one thing we can thank Gov. Kasich for," he said. "I definitely think this will influence the way things are going."
Ryan agreed.
"We have a lot of work to do, but it's my understanding there are some senators down there [in Columbus] who are getting a little queasy," the congressman said.
Ryan went on to reiterate the importance of the union workers who would be affected should the bill pass.
"These folks who are teachers — they raise our kids. It's the police we call when we're in trouble. ... As we're running out of our homes, it's the firefighters who are running in," he said.
State Sen. Joseph Schiavoni of Canfield, D-33rd, said he was overwhelmed by the support shown in the Mahoning Valley and tired of hearing that public-sector employees were "a privileged class."
"Just because we're underdogs in this fight doesn't mean we're going to lose," he said to calls from the crowd of "Keep swinging, Joe!"
Kate Renfield, a South Side resident and high school teacher in Campbell, attended the rally and said she was impressed by the turnout and hopes it will make a difference.
"They've gotta know we're as serious as a heart attack," she said.
Judy Ciarrochi, a school psychologist in the Campbell school district, agreed.
"I think it was great," she said. "Everything was so true. They keep saying it's about money, but it's about job security."