6th suspect to be arraigned in killing near YSU
YSU Tragedy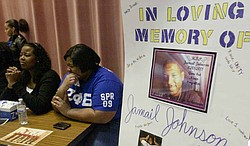 Gallery
YOUNGSTOWN
Police say they believe Mark Jones was actively involved in the Feb. 6 shootings at a house party on Indiana Avenue just north of Youngstown State University.
Jones, 20, of Cambridge Avenue, is in Mahoning County jail on murder and felonious-assault charges, having surrendered to police Monday morning accompanied by his lawyer Sam Amendolara.
Jones is the sixth man charged in the shootings, and he is a brother of Columbus Jones Jr., 22, of the same Cambridge Avenue address, who a county grand jury indicted last week on charges of murder, firing a gun at or into a habitation, and 11 counts of felonious assault, with firearm specifications.
"He was actively involved," Police Chief Jimmy Hughes said of Mark Jones on Monday. Police believe Mark Jones was armed at the shooting scene, but Hughes declined to say if Mark Jones fired a gun there or provide any other details of the case. "The investigation is ongoing," the chief added.
Hughes said Mark Jones may have his video arraignment in municipal court today or Wednesday, and that authorities hope to make a direct presentment of the case soon to the grand jury.
Jamail Johnson, a 25-year-old YSU student, was killed, and 11 others were wounded in the 3:30 a.m. gunfire.
The others charged in the case are Demetrius Wright, 20, of West Avondale Avenue, and Jamelle Jackson, 18, of West Boston Avenue, who the grand jury indicted last week on charges of carrying concealed weapons, tampering with evidence and obstructing justice.
The grand jury last week also indicted Brandon Carter, 22, of East Ravenwood Avenue, on a felony charge of obstruction of justice.
Braylon Rogers, 19, of East Lucius Avenue, initially was charged with aggravated murder and 11 counts of felonious assault, but those charges against him were dismissed when he pleaded guilty Feb. 14 to a felony charge of illegal possession of a firearm. He will be sentenced for that crime at a later date.
Rogers posted $500 bond and was released from county jail last week. He has promised prosecutors he'll testify against the other defendants.
Columbus Jones Jr. originally was charged with aggravated murder, but the grand jury declined to indict on that charge, deciding instead to indict on the lesser charge of murder.
To convict him of aggravated murder, which would carry a potential sentence of life in prison or death, a trial jury would have to be convinced he killed "with prior calculation and design," county Prosecutor Paul J. Gains explained.
The grand jurors indicted only on the murder charge because they weren't convinced the evidence would support prior calculation and design, he said. A murder conviction carries a sentence of 15 years to life in prison, with three additional years for a gun specification.