Wrestler's big heart overcomes bad spine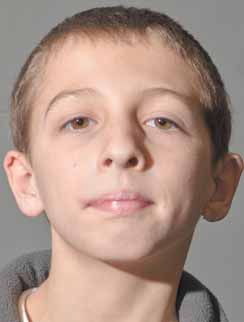 Photo
AUSTINTOWN
Greg Faunda was a state champ and all-American wrestler in high school.
That gave him bragging rights, which he probably didn't exhibit.
Now, 14 years later, he's a youth coach — and he's bragging.
Not about any of his past achievements, but about one of his Austintown youth wrestlers, Anthony Winterburn.
Faunda marvels at the determination of Winterburn, a Frank Ohl 5th-grader who has scoliosis or curvature of the spine.
"He's not allowed to play any other sports right now, but he loves wrestling and he's one of the hardest workers on the team," said Faunda, head coach of the community's youth program. "Even if he didn't have a problem, he'd be one of the hardest workers on the team. But, because of it, he has to work twice as hard."
Amazingly, Winterburn went undefeated (8-0) in the 56-pound weight class in Ohio Youth Wrestling League matches at Fitch High on Sundays, then won his sectional before going 2-2 in the district. He bowed out one victory short of qualifying for the state competition at Akron Firestone.
"He's very competitive in matches wherever we've gone around the state," Faunda said of Anthony, whose younger brother, A.J., is 30 pounds heavier.
"I'm honored and I'm very proud to have him on the team. He not only inspires the kids, but us coaches."
The scoliosis does put the 11-year-old behind the 8-ball though.
"In trying to accomplish his goals, he's at a disadvantage because he has to sit out some practices," Faunda said of both difficulty due to pain and appointments for treatments.
"Because his spine gets so bad, he's had to work twice as hard to catch up. He's missed some meets because of complications, but that didn't hold him back from going undefeated and winning a sectional title."
Faunda said that the 11-year-old has to spend an hour a day stretching to keep his spine from worsening.
"It helps his flexibility and strength, but, more importantly, it helps prevent [the condition] from being life-threatening," he said.
Having Anthony's father as an assistant is a blessing.
"I have his input and knowledge of what's going on," Faunda said of Anthony Winterburn, his peer. "He knows a lot more than I do, so I'm able to coach Anthony to the best of my ability. Because of their dedication, Anthony is able to compete and be successful."
Faunda said he doesn't sense that opponents give Winterburn special treatment.
"When he goes out and competes the opponent doesn't care that he's at a disadvantage," he said. "Nobody wants to lose, so they aren't going to take it easy on him."
From all indications, Anthony is a legitimate wrestler.
"He's one of the toughest and most intense kids we've got," Faunda said, adding that he does hold back on a few things because of Anthony's situation.
"He wants to be treated like everyone else. We push him just as hard and he wants more. He's a well-rounded wrestler."
Fitch High School coach Brett Powell said: "He's amazing. It's youth wrestling, but he's doing things I never thought he'd do. He's pretty courageous. I see him being involved in Fitch wrestling for a long time to come. He's quite an individual."
Anthony's father said that his son's curvature is toward the heart and lungs.
"He got a special brace and wore it for a year, but there was no change," he said. "Now, he goes to a chiropractor twice a week and to Cleveland for the Scroth method, which is to keep his back from getting worse."
Anthony has got to slow down to ensure that his back doesn't bend toward his heart and lungs. If so, he'll need surgery. Wrestling may not seem like the safest sport for his son, but Anthony's father says otherwise.
"Him being so good makes it even crazier," he said. "He's played baseball and flag football, but doctors didn't like the bat rotation motion. He's a heck of a shortstop.
"He's a good kid and a good student. It's a shame a kid like this gets a disease. I know he's hurting, but he doesn't tell us. He got a bad card dealt to him."