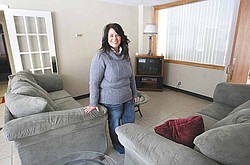 The Vindicator (Youngstown)

Photo
Michelle Beauchene, director of Hannah's House, stands in the Vienna township facility's living area.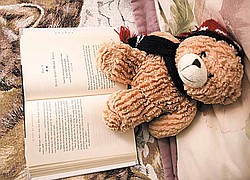 The Vindicator (Youngstown)

Photo
A stuffed animal and an open religious book at Hannah's House in Vienna Township.
The Vindicator (Youngstown)

Photo
Many residents of Hannah's House in Vienna Township turn to the bible for guidance.
Warren Family Mission has opened a home for women with substance-abuse backgrounds
By Ed Runyan
VIENNA
When you work with women who have spent much of their lives addicted to drugs, you spend a lot of time exposing them to things many people take for granted.
These include taking a daily shower, brushing teeth, having a healthy relationship with a family member, coping with difficult situations or having fun without drugs or alcohol.
"When you're in addiction, your life basically revolves around that addiction. So when you wake up, you feel like you have to use the drug," said Michelle Beauchene, director of Hannah's House, a 12-month faith-based substance-abuse treatment facility for women on state Route 82 in Vienna.
"You don't care if you have a job. You don't care if your kids need to get up for school. A lot of times, the drug just takes over, and you don't understand what it is to have structure, to have rules."
Hannah's House, which the Warren Family Mission acquired in 2008 from New Life Maternity Home and now runs, spends the first two months of a woman's stay focused on giving her life structure.
"Although they're grown women, it's as if you're dealing with a child, just going back to basics of 'Hey, we need to get up. Hey, we can't use those words. Hey, we don't handle things like that. Hey, we don't dress like that,'" Beauchene said.
"What happens is when you're in addiction, you lose out on life experience. So when they get off the drug, it's almost like dealing with a 15-year-old."
Among those experiences is learning how to cope with life.
For example, Hannah's House, which began in October 2009 and graduated its first class of three women in December, received donations that enabled it to provide an exercise room with fitness equipment — a good place to work off some of the steam generated from trying to get clean, Beauchene said.
Hannah's House doesn't charge the women living and recovering there. Funds to pay for the center come from the Warren Family Mission.
Another way the women learn to cope is through talking to someone, Beauchene said.
"We teach them different skills to practice when they are having a bad day or craving that drug, like teaching them how to have fun without drugs or alcohol.
"For instance, we took them to a Christian concert, and they said, 'We've never done anything like this before. All of our concerts, we were so high we don't even remember them.'"
But the concert was "a blast," Beauchene said. "We had one of the best times they can remember. We took them to an amusement park and they said, 'Wow, this is fun.'
"Fun to them was partying, but we just teach them what else is out there to have fun," she said.
A woman in her late 20s who has been at Hannah's House five months said she has quit smoking and stayed sober.
"I don't even take Tylenol anymore.," she said, adding her better focus has helped her begin to improve her relationships with her family.
A 21-year-old woman from California who came to Hannah's House three months ago said she's learning about herself in important ways.
"They tell me I've got a teachable spirit. I'm letting people teach me about me, as in my faults, because I didn't think I had any. I just thought I liked to party," she said.
A woman in her late 40s who's been at Hannah's House three weeks said she came to the facility "broken," but the women there "came right up to me. They treated me with love and from the Bible."
Hannah's House is different from many drug-treatment programs, Beauchene said, in that its pace is slow. Where many programs are three to four months, Hannah's House lasts 12.
"It's not rehab," she said. SDLqIt's restoration. I believe you have to get to the root of the problem and then get to the addiction."
Part of the root problem is guilt, Beauchene said, so she and her staff help residents avoid self-destructive behavior.
"People have come in here and told me they have 10 felonies in their past, and I don't see them that way — I try to see them basically the way God sees them. It's someone who has made mistakes. Sometimes it's just helping them see the good in themselves."
Hannah's House serves 12 women and can accommodate as many as 14. About half of the women are from the Warren-Youngstown area and the other half from outside Ohio.
Beauchene expects the percentage of local Hannah's House clients to increase as local treatment professionals become more aware of the program.