After win, Jake Giuriceo eager to get back in ring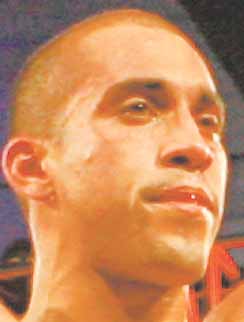 Photo
Boxer Jake Giuriceo of Struthers
By Jim Flick
YOUNGSTOWN
After winning the main event during Saturday's "Winter Storm" at the Byzantine Center, Jake Giuriceo of Campbell said that thanks to disciplined training for the fight, he "felt like a completely different boxer" during the bout.
Giuriceo won the 142-pound matchup when opponent Angel Hernandez declined to emerge from his corner at the start of the fourth round of the scheduled six-round bout..
Late in the first round, Giuriceo knocked down Hernandez. He scored two more knockdowns in the third round, but each time Hernandez rose and continued fighting.
Giuriceo swarmed over Hernandez and pasted him with a flurry of punches in the final seconds of the third round. When the round ended, Hernandez seemed spent. Before the bell rang to signal the start of the fourth, his manager notified officials Hernandez was finished.
The crowd of about 1,000 exploded when Giuriceo's win was announced.
"I think discipline was the biggest thing about the fight," Giuriceo said, adding that the discipline in preparation and during the fight, made him a different fighter and made him feel in control against Hernandez.
He said a big factor was Ray "Boom-Boom" Mancini, who helped him train for Saturday.
Mancini attended the fight and received an enthusiastic greeting from the crowd.
Giuriceo said his strategy was, "Take my time. The shots were gonna come. And they did. It was excellent."
"The feeling of being in there and not having to catch everything, or get under every punch.… I was showing how to roll with them. The only thing I felt was 100 percent was the hook. But the jabs, the right hand, anywhere I put them they were landing."
He said he "blocked away" until landing a series of body shots on Hernandez.
Hernandez "didn't hurt me, but he can punch. I'll give him that. When they did get through they were good, solid shots," he said.
Giuriceo plans to take a week off, then get back into the gym. He wants to fight again as soon as possible.
"We don't have anything exactly lined up yet," he said. "We had a call about an ESPN show, but I'm not exactly sure about that, so I'm not going to talk about it."
In the co-feature, "Dangerous" Dannie Williams of St. Louis won a unanimous decision over Harrison Cuello of Bronx, N.Y., in an eight-round fight.
Williams (16-1), who lived in Boardman while training for Saturday, received some ringside coaching from Youngstown's Kelly Pavlik.
After a fairly even first round, Williams seemed to take control of the fight in the second round and scored a knockdown in the closing seconds of the third. He knocked down Cuello (20-15-3) again in the fourth and for a third time in the eighth. But Tucker got up both times and finished the fight.
"Winter Storm" included six fights. In the opening bout, a matchup of 175-pounders, Aaron DeFour (2-1) of Ashtabula knocked out Zachary Swallen (0-3) of Cincinnati at 1:54 in the third round.
In the second bout, also in the 175-pound weight class, Damar Singleton (7-0) of Toledo won a unanimous decision over Michael Glenn (2-2) of Hutchinson, Kan.
Michael Moore of Cleveland (7-0) won a majority decision over Justin Williams of New Orleans (2-2-1) in the third bout, a 160-pound matchup. The second and third bouts were four-round fights.
Miguel Gonzalez of Cleveland (14-2) won a unanimous decision over Martin Tucker of Toledo (7-8) in a six-round matchup of 140-pound fighters.