Sectional wrestling champions crowned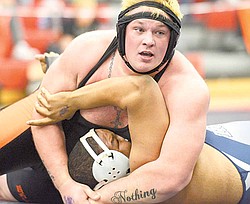 The Vindicator (Youngstown)

Photo
Howland's Cody Reesman defeated Sam Sims of Twinsburg in the 285-pound weight class match at the Division 1 sectional wrestling tournament at Austintown Fitch High School Friday night.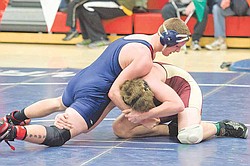 Photo
Fitch wrestler Jamie Jameson defeated Gage Finegan of Stow during the 171-pound weight class match at the Division 1 sectional wrestling tournament at Austintown Fitch High School Friday night.
BELOIT
Crestwood repeated as team champion, but runnerup West Branch had three individual champions and fourth-place Canfield had a pair of winners at the Div. II sectional wrestling tournament that concluded Saturday night.
West Branch was basking with wins by Dustin Graham (112), Chad Hupp (135) and Adam Lamancusa (160), while Canfield was ebullient following crowns earned by Robby Reed (125) and Alex Benedict (130).
Salem's Scott Lodge was a runnerup at 140 as was West Branch's Connor Sharp at 285.
The top four in each weight class advance to the Akron Firestone district next weekend.
Reed (37-2) decisioned Crestwood's Dylan Kager, 6-2, and Benedict (31-3) scored a major decision by beating Crestwood's Nick Fejedelem, 14-3.
Graham won by a 14-0 major decision over Crestwood Stevie Alger, Hupp (27-6) beat Field's Zack Ladich, 4-2; and Lamancusa (39-2) beat Crestwood's Cheney Matarrese, 4-3.
Lodge (30-12) was pinned by Field's T.J. Fox in 2:38 and Sharp lost a 4-2 decision to Marlington's Zach Higgins.
Hubbard's Nick Nadeja lost to Louisville's Lucas Poyser, 12-5, for third and fourth at 152.
West Branch's Ryan Brown (189) finished third — his best at sectionals since he began high school wrestling as a junior.
Brown (19-9) decisioned Canfield's Michael Flanagan, 7-2.
"It felt good to get third against him," Brown, a senior, said of losing to Flanagan for third and fourth places at the 2010 West Branch sectional.
Reed, a repeat champ at 125, was behind, 2-0, after Kager got the first takedown, but Reed also got a takedown to tie, 2-2, before getting another takedown for a 4-2 lead after two periods. Reed got a final takedown in the third period for his last two points.
A takedown tilt got Benedict off to a fast start against Fejedelem and the senior was off to his first sectional title. Benedict finished fourth at sectional in 2010.
Hupp also got a quick takedown for a 2-0 lead, then got a penalty point when Ladich got Hupp's head in a scissors lock. Hupp got his final point by escape.
Lamancusa used a "front head" maneuver to succeed against Matarrese.
"I've been working on that a lot lately because it's worked," Lamancusa said of shoving the opponent's head downward against the mat, then rotating the victim around the circumference of the center circle.
Lodge, a junior, earned his first district berth.
"He was overpowering," Lodge said of Fox, ranked fifth in the state by the Brian Brakeman Report. Fox got his pin when he applied a half-Nelson with his arm under Lodge's arm and behind Lodge's head.
Nadeja said he knew he would have a tough day since it included a match against No. 1 seed Mitchel Porter of Crestwood — 152's eventual champ.
"I need to get my head on straight," the Hubbard wrestler said after losing to Poyser and getting prepared for the district.
Other third-place finishers were: West Branch's D.J. Anderson (103), Mike Estok (130) and Tyler Pidgeon (145); Canfield's Zach Kay (119) and Richard Rapone (135) and Hubbard's Zach Chaney (140) and Tyler Lias (171).
Other fourth-place finishers were: Canfield's Korey Frost (112), John Poullas (145) and Eric Mirto (160); Hubbard's Mitch Perry (125) and Nick Nadeja (152); and West Branch's Kenny Faulkner (140) and Jon James (215).