TEA Party, union members battle over bargaining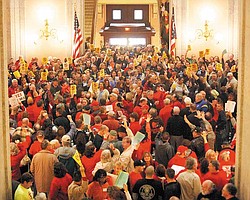 AP

Photo
Hundreds of supporters for and against Senate Bill 5, fill the Ohio Statehouse rotunda Thursday, Feb 17, 2011, in Columbus, Ohio. (AP Photo/Terry Gilliam)
By MARC KOVAC
news@vindy.com
COLUMBUS
JoAnn Johntony remembers what it was like before Ohio passed its collective bargaining law more than 25 years ago.
Johntony, a Girard City Schools custodian for 44 years, remembers it so vividly that she made the trip to Columbus on Thursday to stand alongside fellow union members to oppose legislation making sweeping changes to that law.
"We made $2 an hour, and we worked like fools, and I never want to go back to that," said Johntony, state president of the Ohio Association of Public School Employees. "And I don't want any of our people to go back to that ever again. I will fight like hell."
She added later, "The collective- bargaining bill has done so much good because it put everybody at a fair place at the table. And we've been able to work out contract negotiations without problems."
Johntony was among thousands of union representatives and Tea Party members who jammed the Ohio Statehouse as lawmakers continued deliberations on a bill to eliminate collective bargaining for state workers.
A boisterous crowd of more than 3,800 cheered and jeered loudly enough to get the attention of lawmakers in a second-floor hearing room throughout the day.
It was the third day of testimony on the legislation but the first in which opponents were allowed to testify. And more than 38 people submitted testimony to the Senate's Insurance, Commerce and Labor Committee voicing concern about the impact of Republican-backed reforms that would change how public employee unions negotiate wages and benefits.
Senate Bill 5 would eliminate collective bargaining for state employees. Local governments, including school districts, would still be allowed to use collective bargaining, though public employers in fiscal emergencies could modify, terminate or renegotiate agreements.
SB 5 also would require increased disclosure of compensation outlined in collective bargaining agreements and labor negotiations. Public employers would be allowed to hire permanent replacement workers during a strike, and layoffs would be based on factors other than employees' length of service.
Gov. John Kasich supports the changes.
More than a dozen proponents of the legislation spoke during Thursday's hearing, saying that changes are needed to enable state and local governments to better control costs.
Cincinnati Councilman Jeff Berding said union contracts have boosted the city's labor costs 18 percent per year — at a time when tax revenues are down and the need for public services is rising.
"Personnel expenses have been the fastest growing expense in our budget, and tax revenues are unable to keep up," he said.
Ray Warrick, a Tea Party member from southwestern Ohio, said Senate Bill 5 is needed to reduce government spending.
"The real debate here is the size of government," he said. "Government is too big, costs too much and is entirely too intrusive and inefficient."
State Rep. Robert F. Hagan of Youngstown, D-60th, said it's great to see so many people come to the Statehouse to oppose the bill. But those at the Statehouse are probably too late, he said.
Passage is "a foregone conclusion," Hagan said. "I wish we could do the election over again. I fear a lot of those union members, not a majority but a lot, didn't vote [in last year's statewide election] or voted Republican. Hopefully, this is a wake-up call for some."
Once the bill passes, its opponents must mobilize to prepare a ballot initiative to get it repealed, Hagan said.
As the ranking Democrat on the Senate Insurance, Commerce and Labor Committee, state Sen. Joe Schiavoni of Canfield, D-33rd, heard all of the testimony. "I've never seen anything like it in terms of the number of people here and the length of the hearings," he said. "I'm voting against it. It destroys collective bargaining rights."
Schiavoni said it's not a "slam-dunk" yes vote for Republicans, particularly those in districts with many public-sector employees.
State Rep. Craig Newbold of Columbiana, R-1st, said removing collecting bargaining rights for state employees is "a touchy subject for a lot of people. But given our economic situation, we have to look at these things. I think we have to do something. I'm in favor of looking at it. I've never been in a union. I need to understand their perspective and listen to the issues" before deciding.
State Rep. Ronald V. Gerberry of Austintown, D-59th, said Kasich said in his campaign that he would make changes to collective bargaining.
"I'm surprised he's doing it" so quickly, Gerberry said. "I'm really surprised they're going this far. It could likely get passed. They don't need Democratic support."
State Sen. Jason Wilson of Columbiana, D-30th, says getting rid of collective bargaining is a bad move.
Opponents said the bill would hurt public safety forces and school teachers, leaving them and other public workers with little means of negotiating fair pay and benefits.
Jay McDonald, a police officer from Marion and president of the Fraternal Order of Police of Ohio, said officers have given millions of dollars in concessions in recent years.
"My members who work for the Mahoning County Sheriff's Office have given as much as 27 percent of their pay back to the employer to keep the operation running," McDonald said. "We have proven time and time again that members have been willing to give concessions in these economic times."