Youngstown online radio station instant hit with agency's clients
Golden String Radio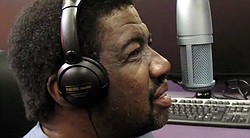 Video
Golden String Radio, an internet radio station using adults with disabilities as on air personalities, is based in Youngstown.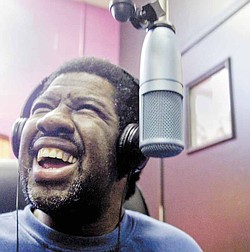 Photo
William D Lewis The Vindicator Golden String Radio DJ Eugene Hopkins who is a Purple Cat Client on air on the internet radion station. He says he is abig MoTown fan.
By GUY D'ASTOLFO
YOUNGSTOWN
Eugene Hopkins is behind the mic in the broadcast booth.
A client at Golden String, an agency that provides recreation for adults with disabilities, Hopkins has his own show from noon to 3 p.m. daily on goldenstringradio.org, an Internet radio station. He's a huge Motown fan, and his show reflects it.
The station occupies a booth that looks and functions like a real broadcast radio booth. DJs sit at a shelf lined with playback and computer equipment, talking into microphones on booms. A wall-sized window allows them to look out into the rec room of Golden String's East Side location.
The online station was launched late last year and became an instant hit with the clients — as well as the staff — of Golden String, which is a division of Iron and String Life Enhancement. ISLE also operates residential-care homes, the Purple Cat day-care center and farm, and Touch the Moon Candy Saloon downtown.
"It's been a total home run," said Jim Sutman, president and founder of ISLE and also a Golden String Radio DJ. "It's kept on at all of the other [ISLE] sites. Now it's becoming a problem just to get them all involved because they all want to [be DJs]," and there's not enough time.
There has always been a strong musical vibe among ISLE clients, said Sutman. "They love music, and they've taught me so much about it," he said.
Before the Internet radio station became a reality, Sutman had set up a faux station with speakers. The response was so overwhelming, the staff decided to take it to the next level.
Golden String Radio webcasts live from 9 a.m. to 3 p.m. Monday through Friday, but those hours are starting to expand.
Hopkins, who shares the booth daily with ISLE counselor and co-DJ Gil Pagan, picks the songs he plays. Sometimes Sutman or ISLE employee Richie Bernacki also sit in. Bernacki is the technical expert who keeps the station powered up, and he's also in the rock band Gil Mantera's Party Dream.
The DJ and counselors do a lot of on-air bantering between songs. As they share laughs and read "news of the weird," it's obvious they are having a ball, and that palpable joy inevitably brings a smile to listeners, said Bernacki. "It's so much fun just to hear everyone talking to each other," he said.
The station maintains a library of music on MP3s and vinyl. During a recent show, Hopkins followed up a Four Tops hit with some Stevie Wonder. Afterward, a listener — a woman who had no connection to ISLE — e-mailed a song request to Hopkins.
That brightened Sutman's day.
"We give [our clients] an opportunity they never had," said Sutman, who wants to see special-needs adults more visible in society. "I want my folks to be out there," he said. "[Mentally challenged people] just aren't seen. They aren't on television or in books."