RAP ATTACK!SFlbVienna's Dave Rappach is a monster on the truck circuit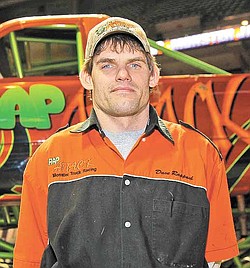 Photo
Monster truck driver Dave Rappach
IF YOU GO
What: Monster Jam
When: 2 and 7:30 p.m.
Saturday and 2 p.m. Sunday
Where: Quicken Loans Arena, Cleveland
Tickets: $20 ($10 for kids
12 and under) to $52 at theqarena.com
By GUY D'ASTOLFO
Dave Rappach will roll into Cleveland's Quicken Loans Arena this weekend behind the wheel of his monster truck Rap Attack.
The Vienna native is one of eight drivers participating in Monster Jam, slated for two shows Saturday and another one Sunday.
Monster Jam is a U.S. Hot Rod Association-sanctioned event that pits drivers in their giant machines against each other in races and freestyle events.
The trucks average 12 feet tall by 12 feet wide, sit atop 66-inch-tall tires and weigh a minimum of 10,000 pounds. They generate up to 2,000 horsepower and are capable of speeds up to 100 mph, which can get them airborne for up to 130 feet, flying 35 feet in the air.
Needless to say, the vehicles are custom-designed and built. Because they take such a pounding, they also require weekly maintenance — which can get quite involved.
Rappach, who also has a construction and excavation business, was in Austintown last week, where he was getting tubing cut for Rap Attack at Austintown Metalworks, his usual spot. "There is nothing [about the trucks] that you can get at a parts store," he said. "You have to do it yourself. Everything is so high-tech: the suspension, motor and safety equipment."
Monster trucks have been a big part of Rappach's life for more than 20 years, beginning when he was a teenager. "I started in 1988 doing street-truck exhibitions for the shows," he said. "A couple of friends of mine got me hooked on it." Those friends would be monster-truck stars Michael Vaters and Kirk Daphney.
This is the busy time of year for Rappach, who travels the country with his crew and Rap Attack. He is doing about 18 shows this year. With the season nearing the halfway point, Rappach is hoping to get invited to the World Finals, a 40-truck event in Las Vegas in late March.
This weekend's Monster Jam in Cleveland will be interesting, he said, because the track for freestyle runs was changed this year. "It puts the trucks to the edge," said Rappach.
"Freestyle is my strong suit," he said. "We tend to stick to it. It's what people like, it's what kids like ... and sometimes goofy things happen, like you get a lot of air, or sometimes even flip."
Rappach isn't all that concerned about injury should he flip his machine. "Trucks nowadays are so much different than 20 years ago. You can take a shot and it'll hurt you, but not like with the old leaf springs, where you'd bounce and never know where you'll end up.
"Today, you are belted in, and the truck absorbs 85 percent of the impact. The suspension isn't just for jumping over cars — it also helps the truck land. You can hit the jump hard, get 25 or 30 feet of air, and then safely land."