Playhouse will pay homage to Steinbeck with 'Mice and Men'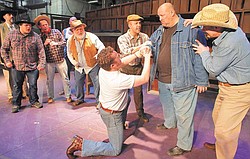 Special to the Vindicator

Photo
he cast of the Youngstown Playhouse's production of 'Of Mice and Men,' acts out a scene during a recent rehearsal. The production runs February 18th through the 27th.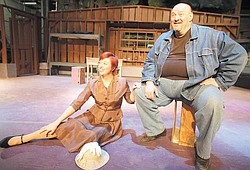 Special to the Vindicator

Photo
Molly Makselan (Curly's Wife) and TIm Phillips (Lenny) rehearse a scene from the Youngstown Playhouse's production of 'Of Mice and Men,' running February 18th through the 27th.
IF YOU GO
What: "Of Mice and Men"
Where: The Youngstown Playhouse
When: 7:30 p.m. Friday,
Saturday and Feb. 25 and 26; 2:30 p.m. Sunday and Feb. 27
Tickets: Call 330-788-8739 for reservations
The ultimate "bromance," John Steinbeck's "Of Mice and Men" is better known as a novella and movie (various screen and television adaptations have been filmed over the years) than as a stage play. But it's the stage version — written by Steinbeck himself — that area theatergoers will see when "M&M" opens next weekend at the Youngstown Playhouse. Directing is community theater staple Sam Luptak Jr. ("Our Town," "Sherlock Holmes: The Final Adventure"), and Luptak recently sat down to answer some questions about the production and why the material is so dear to him.
Q. Why "Of Mice and Men"? And why now?
A. "Of Mice and Men is one of my favorite scripts and was on a short list of plays I wanted to direct. But ironically, I didn't choose it at this time. The Playhouse had already put it on their schedule and was looking for a director. I was privileged enough to be selected from several directors who applied. It was a real honor to be given this opportunity. This is the first time I've directed at the Playhouse, and I'm very excited to be able to lead a great cast in what promises to be a fantastic show.
Q. What is it about Steinbeck's writing — and this work in particular— that speaks to you as a director?
A. The simple answer is, "It's Steinbeck: How could it not speak to you?" (laughs) Yet, this story is especially powerful for me. Steinbeck tells a beautiful story of two men who love each other like brothers. It's a story of hope, promise and sacrifice, and — in the end — a love deep enough for one man to sacrifice his dreams to protect the other. Without question, "Of Mice and Men," along with "The Grapes of Wrath," another script I'd love to direct some day, are Steinbeck's greatest masterpieces. They're both truly spiritual stories.
Q. A recent production of the play updated the story by making the migrant worker characters illegal aliens to give it a more contemporary relevance. Have you done anything to modernize the material, or is it still pretty much the way it was in 1937?
A. I'm pretty much a traditionalist when it comes to classic-theater pieces. I don't believe that directors should alter the elements that made them classics in the first place just to make a statement. Working with this kind of material bears a responsibility — to the author and to the audience. "Of Mice and Men" is a timeless story. Updating, altering or politicizing it would only take away from its message, and perhaps even alienate the audience.
Q. For those unfamiliar with the Steinbeck novella, play or any of the movie versions, could you give us a brief plot synopsis?
A. George and Lennie are best friends. The mentally-challenged Lennie is a gentle giant with the strength of three men. He doesn't understand the significance of his actions — or of his own strength. George is his caretaker and protector, and he saves Lennie from his innocent, but frequently misinterpreted actions. When they arrive at a new ranch to work, Lennie finds himself in more trouble than he ever dreamed of when he draws the attention of ranch bully Curly (who's also the boss's son), and catches the eye of Curly's wife, a beautiful, flirtatious and dangerous woman looking to escape the life she's landed herself in. I won't say any more except that the final scene is powerful and heart-wrenching and will stick with you for the rest of your life.
Q. With so many plays featuring all-male (or predominantly male) casts opening — or in rehearsal — at the same time, was it difficult finding actors, particularly for roles as demanding as Lennie and George?
A. This show was an adventure for me for that very reason. With only two exceptions, I'd never directed — or been in a show — with anyone in the cast. Lennie is played by Tim Phillips, a newcomer to the Playhouse stage but a veteran actor who absolutely owns this role. He captures Lennie's childlike nature with stunning beauty. Craig Conrad plays George, and he perfectly counterbalances Lennie's childlike nature with an earthy maturity and strong, protective nature. Curly is played by another veteran, Chuck Kettering. Although soft-spoken by nature, Chuck is amazing as this arrogant bully. Retired Boardman teacher Jack Hay brings a tender, priest-like quality to Slim. Long-time area favorite Tim McGinley plays Candy, and he steals the show with some of its most heart-rending moments. Boss is played by Jim Cannaci; Byron Armour is racially oppressed stable hand Crooks; and Ed McColley and Tyler Moliterno play Carlson and Whit. Rounding out the ensemble is our lone female, Molly Makselan, who brings a sweet and sexy quality to Curly's wife, a character headed for disaster. While a good part of the cast will be new to Playhouse audiences, I don't think I could have assembled a more-perfect group of actors for this show.
Q. How evocative of the 1930's period will your production be? Or have you opted for a more "timeless" (i.e., period-nonspecific) quality to make things a tad easier on the scenic and costume designers?
A. The production is definitely set in the 1930s, but with people like the incomparable Jim Lybarger and John Pecano designing the set and lights, and Cherri Stebner bringing her amazing costuming skills, "Of Mice and Men" promises to be a technical masterpiece. The set and costumes will all be faithful to the era. Jimmy's designs are stunning in their simplicity; Cherri never misses with her costuming; and how can you go wrong with John's brilliant light designs? These backstage technicians are as much a part of the success of this show as anyone on stage — or of any director.