Boardman levy threat sparks debate
BOARDMAN
Is it an unfair labor practice to threaten withdrawing a police levy if new insurance plans aren't approved?
Some experts say yes; another says it's just hardball.
Township trustees have said they will take a 3.85-mill, five-year additional police levy off the May ballot if the township's insurance committee does not approve a change in the health-insurance-plan design.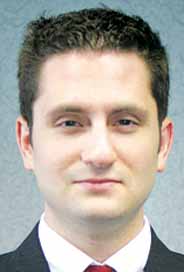 Photo
Special to the Vindicator
Boardman Administrator Jason Loree has set goals for himself and his colleagues that include regional planning and reanalyzing the town's current budget plans to better prepare for next fiscal year.
The township wants to change the design to get more competitive rates, said township Administrator Jason Loree.
The insurance committee has until April to reach an agreement, but trustees want a decision before March 1, because after that date the township would incur some election costs on the levy.
Atty. Kevin Powers, who represents the Ohio Patrolmen's Benevolent Association, said the insurance committee was proposed by the township, and the township unions agreed to it. Decisions made by the committee are nongrievable.
"It's really bizarre because this whole health-insurance committee was the employer's agreement. Now they don't want to let the process play out. They thought it was a good idea, and now they want to dictate," Powers said.
"That's the way a little kid behaves on the playground, saying, 'If I don't get my way, I'm taking my ball away,'" he added.
Charles E. Wilson, an associate professor of law, specializes in labor law at The Ohio State University's Moritz College of Law.
He said economic weapons, such as the police levy in this case, are considered "part and parcel of the process of peaceful collective bargaining," but that the State Employment Relations Board and courts have put limitations on these.
Wilson said one of those limitations is that employers cannot use economic weapons unless the two sides are at an impasse — or deadlocked without an agreement.
Boardman is still negotiating with the health-insurance committee and has until April to reach an agreement.
"So, if the parties are not at impasse over the health-insurance issue, I believe that it is likely that SERB would find an unfair labor practice if the township were to take the police levy off the ballot," Wilson said.
Wilson's colleague, Professor Sarah Rudolph Cole, director of the Program on Dispute Resolution at OSU, said the threat might not be an unfair labor practice.
"It sounds like an extreme pressure tactic which may have negative consequence," she said.
Cole also said that more of these situations might become more common.
"I do think that probably because a lot of townships, counties and cities are struggling [to make] sure budgets can pay for collective bargaining, they might tend to resort to more drastic tactics," Cole said.
The health insurance has a zero-deductible policy that provides 100 percent coverage, specifically for in-and-out-patient hospitalization, Loree said, adding there is a $15 co-pay on a doctor's office visit.
Loree said the firefighters union and the three police unions pay 10 percent of their premium contributions of health insurance, and a family plan costs about $1,881 annually. The road department union (Township Workers Association) and American Federation of State, County and Municipal Employees Local 2498 union contribute 18 percent to their health insurance, which is about $3,387 annually for a family plan.
Loree has said previously the township's goal is to get employees to pay a higher deductible and that the township will provide specific plan costs to the union before next week's vote. Those specific costs were not available to employees before the two previous votes, he said.