Jacubec's 23 leads Wildcats to win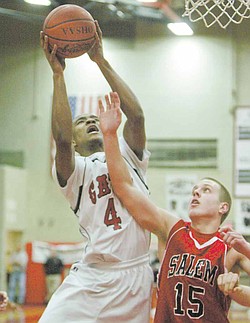 Photo
Will Clark of Struthers, left, shoots around Salem's Taylor Fredrickson during Tuesday's game at Struthers.
Struthers 88
Salem 56
Next: Struthers vs. Lowellville, Friday, Feb. 18 at 7:30 p.m.
Next: Salem vs. Hubbard, Friday, Feb. 18 at 7:30 p.m.
By Jon Moffett
Struthers
With just a few seconds remaining in the first half of their game against Salem High, Nate Jacubec of Struthers drove to the basket, lost his balanced and threw up a circus shot, which bounced up in the air off the rim before swishing on the way down.
It was just one of those nights for the Wildcats.
Proficient scoring, led by the Jac Attack, gave Struthers a convincing 88-56 victory over Salem on Tuesday. The win kept the Wildcats perfect in the All-American Conference's White Tier, and added another jewel to their league crown.
Jacubec led all scorers with 23 points — on his mother's birthday no less. He was one of nine players to put points on the board for Struthers. And head coach Joe Savko said it was a testament to how seriously his players are taking this season.
"I kept telling these guys that we're not trying to embarrass anybody, but when you get in the game off the bench, you're expected to go in there, play hard and keep playing," he said. "Tonight it just happened to be where everybody was finding everybody and guys were getting open shots. It was all just clicking."
It's been clicking all year for the Wildcats.
The team boasts a 17-1 record, with a flawless 8-0 league mark, and is the unanimous No. 1 seed for the upcoming Division II tournament.
Things haven't been going as well for the Quakers (6-10, 1-5 AAC White). The team watched as the Wildcats drained 13 3-pointers — five off the hot hand of Jacubec. The Quakers made only three such shots, and two of them came in the fourth quarter. The other came late in the third quarter.
But the game became trivial midway through the third quarter. Salem senior Ryan Wolfgang went airborne to block a shot and came down awkwardly. He immediately grabbed his knee as he writhed on the floor.
Salem coach Rich Hart said it is likely a hyperextended knee, but said he didn't have an early word.
The Quakers were visibly shaken after. Struthers went on a 9-0 run, forcing Hart to call a timeout and try to calm his troops.
"Wolf is our leader. He's our vocal leader, he's our leader at practice. He's our leader everywhere," he said. "There's not much we can do. We just have to deal with it and see what kind of character we have."