Rocky Chirchiglia, Valley vocalist of Italian pop music, dies at age 79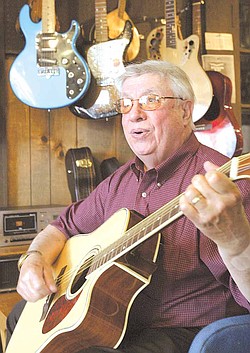 The Vindicator (Youngstown)

Photo
Longtime Mahoning Valley musician Rocky Chirchiglia in his Austintown muic store.
Rocky Chirchiglia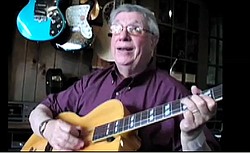 Video
Longtime Mahoning Valley musician Rocky Chirchiglia died Feb 14, 2011 at the age of 79. He is shown in this 2008 video playing "You're Nobody Till Somebody Loves You."
By GUY D'ASTOLFO
YOUNGSTOWN
Rocky Chirchiglia, whose band played at countless outdoor festivals, weddings, concerts and other events in the Mahoning Valley over the past six decades, died unexpectedly Monday morning at his home. He was 79.
Funeral arrangements were pending at Rossi & Santucci Funeral Home on Market Street in Boardman.
Although his band played all types of music, Chirchiglia was best-known for playing Italian pop music, which he accompanied by singing in Italian. His 1994 album "Italian Favorites," recorded at Peppermint Studios in Youngstown, earned Chirchiglia a Grammy nomination.
Chirchiglia also ran a music store, Chirchiglia's House of Music, on Mahoning Avenue in Austintown, for more than 30 years, where he gave guitar lessons. His band also appeared in the locally made 2008 movie "Fine-Tune."
His death Monday morning came as a shock to his colleagues. Gary Rhamy, owner of Peppermint, said Chirchiglia stopped by his studio Friday to pick up some CDs that he had recorded. "He was talking about playing concerts this summer," said Rhamy. "I had no idea anything was wrong."
Rhamy said Chirchiglia knew the language and music of Italy. "People loved it, he really captured it," he said.
Rhamy had his own show on radio station WSOM-AM 600 until a few months ago. He always played Chirchiglia's music on the air because listeners wanted to hear it.
Local band leader Del Sinchak knew Chirchiglia since childhood. He was stunned at his friend's sudden passing.
"I was with him Friday," said Sinchak. "He was talking about playing summer concerts. He said, 'I'm as strong as a bull, Del, I got another 10 years ahead of me.'"
Sinchak said he and Chirchiglia both started bands at the same time, in the early 1950s.
"He had one of the finest Italian combos in the Valley, and he sang all the Italian lyrics," said Sinchak. "He played so many Italian festivals ... he played them all. He was one of the best in that field."
Bob Rapone played in Chirchiglia's band for 28 years. He spoke to the band leader by phone Sunday, and was stunned to hear of his death. "[Rocky] used to joke around and say, 'I'm going to die on stage with my guitar around my shoulder.'"
Chirchiglia's talent was impressive, according to Rapone. "He could look at music and memorize it note for note," he said. "He could play lead and rhythm at the same time, like two people playing at the same time, plus sing in Italian."
The band likely will call it quits now that Chirchiglia is gone. "Rocky was the band," said Rapone. "You can't replace him.
Local promoter Tony Trolio knew Chirchiglia for years and often booked his band for Italian festivals and other events. Trolio honored Chirchiglia at one such event a couple of years ago.
"Whenever I needed a band, Rocky was the man," said Trolio. "He would do anything to promote his Italian heritage. If your organization didn't have enough funds, Rocky would play for whatever you could afford."