Little gallery, crafty art
InFocus: 29 Logan Ave.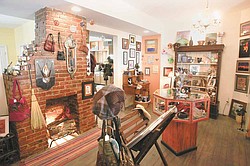 Gallery
"A Little Gallery on the West Hill" - 29 Logan Ave., just west of downtown Sharon, is a mecca for handmade art deco items, all made by the talented area artists.
SHARON, Pa.
Artists from the Mahoning and Shenango valleys have combined their talents behind the copper-colored doors at the "Little Gallery on the West Hill" of Sharon.
It's not far from where men made steel by hand in the Shenango Valley, and turned the making of steel into an art form.
29 Logan Ave. is a collaboration of more than 60 local artists who came together with a desire to share their works with each other and the community. Other extraordinary handcrafted items for sale include photography, stained glass, jewelry and accessories, handmade toys, pottery and much more.
The house is under the direction of Donna Bostardi, an artist in her own right, who makes unique handcrafted jewelry. Bostardi decided to renovate the house and put together a venue for local artists to display their personalized work.
As you open the door of the house just off West State Street, overlooking downtown Sharon, you immediately feel a warmth and friendliness. Items for sale are strategically placed to beckon the visitor.
Bostardi, with her artistic hand, has worked masterfully to display the items so that a visitor cannot rush through, but must stop and enjoy everything, from the decorative eggs to the paintings, stained glass, masks and textiles.
The rooms flow with the displays of art, not just to fill up space, but rather to add to the artist's item so each piece seems to have its own place.
29 Logan Ave. now offers watercolor-painting classes from beginner to accomplished artists, every Monday from 7 to 9 p.m.
The gallery is open Saturdays from noon to 4 p.m. For information, call 724-981-5652 or e-mail to 29LoganAve@gmail.com.