Small animal rescue teaches massage to calm pet rabbits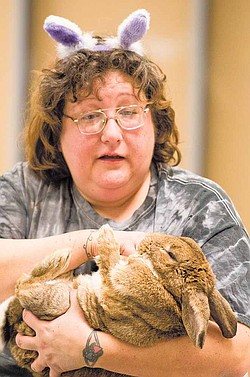 The Vindicator (Youngstown)

Photo
Sassy Pickard of Youngstown demonstrates bunny massage as a way to relax and bond with ones pet rabbit. Pickard is the head of the Frisky Ferrets, Fuzzies and Feathered Friends Rescue and Sanctuary or F5RS and in observance of National Adopt a Rabbit Month the group held wellness checks and classes throughout Saturday morning and afternoon at Petco in Boardman.
The Vindicator (Youngstown)

Photo
Brighid Donnelly, 8, of Austintown, learns to massage her pet rabbit, Andy, Saturday afternoon at Petco in Boardman.
RESCUE, SANCTUARY
F5RS facts
The Frisky Ferrets, Fuzzies & Feathered Friends Rescue & Sanctuary is dedicated to providing a quality life to all healthy, sick, injured, or behaviorally unsound animals who can be helped by medical or behavioral intervention.
Pets served: Birds, rabbits, guinea pigs, ferrets, other small, domestic animals.
Services: Rescue, rehabilitation, spay/neuter; veterinary care; adoption; animal sponsorships; wing and nail clipping, bunny massage.
Staff: Certified avian specialist, certified veterinary assistant, avian educator, experienced avian volunteers; president of Mahoning Valley Exotic Bird Club; American Federation of Aviculture's Ohio State Coordinator.
Needs: Donations for veterinary care; food; cages; small animal toys; cockatoo and macaw-sized wooden toys; cat or small dog beds; Advantage flea control for cats; large bowls and water bottles; litter pans; sand; newspapers; rabbit and bird pellets; bedding; rosehip, raspberry, chamomile decaffeinated tea; organic quinoa, brown rice, wheat pasta; dried papaya; Poop-Off cage cleaner.
Source: f5rs.petfinder.com
By Bob Jackson
BOARDMAN
Finally, there is help for the dreaded "bad hare day."
Seriously, if you just washed your hare and you can't do a thing with it, try rabbit massage.
Yes, that's right, massage for rabbits. And according to Sassy Pickard, director of the 5FRS small-animal rescue sanctuary, rabbits love it.
"Because they are a prey animal, rabbits can be skittish or scared," Pickard said. "Massage helps calm them, and it also helps the animal bond with the owner."
Pickard and other volunteers from 5FRS were at the Petco store on Boardman- Poland Road on Saturday, giving demonstrations of rabbit massage techniques as well as doing wellness exams on rabbits brought in by people who own them as pets. It was part of National Adopt a Rabbit Month.
5FRS stands for Frisky Ferrets, Fuzzies and Feathered Friends Rescue & Sanctuary. As its name indicates, it also accepts ferrets and parrots.
Pickard showed visitors how to properly massage a pet rabbit, starting at the tip of the face, working slowly back across the ears, under the chin, along the spine, and finally along the bunny's legs and feet.
"Believe it or not, bunnies love to have their feet massaged," Pickard said. They also like having their ears gently pulled during the massage, which takes about 10 minutes.
Rabbits who get used to the massage eventually will allow themselves to be cradled on their back so their legs and belly can be massaged. That also makes them easier to handle during veterinary examinations, Pickard said.
Pickard, who said she has some 35 rabbits at the organization's shelter in Youngstown, said she is focusing on getting people to adopt a rescued rabbit.
"The biggest problem is Easter, because people buy [rabbits] as gifts for their kids because they're super cute," Pickard said. But as the bunnies grow older and become difficult to handle, the novelty wears off, and the owners no longer want the rabbit as a pet. That's when they end up either being set loose in the wild or brought to the 5FRS shelter.
"A domestic rabbit has lost the fight-or-flight gene of a wild rabbit," Pickard said. "So I always tell people that if you turn it loose, they're going to be food for a predator." Bringing them to the shelter at least gives the bunny a fighting chance to stay alive and be adopted into a loving home.
Pickard said rabbits are considered the third-most-popular house pet, behind dogs and cats. They also are the third-most-common animal to end up in rescue shelters. Most times, that happens because people don't know how to care for a rabbit.
The most important step in training a rabbit to be a house pet is to have it spayed or neutered, she said. That takes away much of its wildness and makes it more willing to be held and handled. It also prolongs the rabbit's life expectancy.
An unspayed female has an 85 percent chance of dying of cancer within two years, she said. Males that haven't been neutered will probably live about five years, but rabbits that are spayed or neutered generally live about 12 years.
Spaying and neutering is expensive, though, costing between $180 and $350, she said.
"People think that's high, but they'll spend it for a dog, so why not for a rabbit?" Pickard said.
She said rabbits are extremely intelligent animals that are not meant to be caged. They can be housebroken, the same as dogs and cats, and are best left to roam freely most of the time. They need chew toys to help them keep from chewing on household things such as wiring or furniture.
"They're better than dogs because you don't have to take them outside," said Dana Donnelly of Youngstown, who said she and her family have 16 rabbits in their house, along with two cats.
Heather Kelly, 31, of Elwood City, Pa., brought her two rabbits, Wiggles and Hop-Hop, to the event for the free health check and to learn how to massage them. Kelly said she had rabbits as a child, but they were kept in pens outside. She decided to get rabbits as house pets about two years ago.
"They've very good house pets. They don't bark. They're not noisy pets at all," she said.
Donnelly, 39, said people considering adopting a rabbit should first do some homework, including finding a veterinarian who is "rabbit-savvy."
"A rabbit is not a young child's pet," Pickard said, explaining that if a rabbit is picked up incorrectly, its back can be broken. It can also break its own back by kicking hard to get away if it becomes afraid while being held. "Rabbits are for older kids or for adults."