Reed's unselfishness rewarded with league title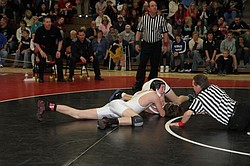 Photo
Neighbors | Submitted.Canfield's Robby Reed (top) applies pressure to his opponent during last weekend's EOWL tournament. Reed was named MVP of the tournament after knocking off defending Division III state champion Johnny Matacic (Jackson-Milton), to win the 130-pound EOWL title.
Canfield wrestler Robby Reed wanted to do what was best for his team. Sure, finishing his high school career with an EOWL individual title was a priority. But like he has all season, he put the team's needs first.
"He never told me where to put him," said Canfield coach Dean Conley, regarding which weight class Reed was going to wrestle in at last weekend's EOWL tournament. "He's very unselfish and it was a team decision. Robby would wrestle wherever it best helps our team. That's part of what makes him special."
Despite Reed's willingness to put the team first, he still found himself in the spotlight Saturday night when he faced defending Division III state champion Johnny Matacic (Jackson-Milton) in the 130-pound championship match.
"If it were up to him, Robby probably would have wanted to face [John] Dillon (Boardman)," said Conley. "But Matacic is no picnic, either."
Reed (33-2) fared better than some thought he would, building an impressive 9-2 lead and fighting off a Matacic comeback to earn the 13-8 victory and an EOWL title. His effort was also rewarded by being voted as the tournament MVP.
"Robby is not one to complain about much," said Conley. "He's always wrestled wherever we needed him. He's been at three weight classes this year and allowed us to adjust our line-up. Robby is just one of many unselfish kids on our team this season."
Reed got his league title and the team finished second overall in the team standings. The Cardinals, who won the Division I EOWL dual meet title in the regular season, finished with 179 points. Howland won the event with 206.5 points.
West Branch (169.5) was third overall and first in Division II. Jackson-Milton won the Division III team title and Pymatuning Valley was fifth overall and the champion of Division IV.
In addition to Reed's championship, Alex Benedict won at 135 pounds, beating West Branch's Chad Hupp in the finals. Several other Canfield wrestlers distinguished themselves by placing at the league tournament. Anthony Spencer finished second 103, losing to Boardman's Nick Mancini in the final. Eric Mirto also took second place, wrestling at 160 pounds. He lost his final match against West Branch's Adam Lamancusa.
Richard Rapone was third at 140, Mike Flanagan took fourth at 189, Jake Dunbar was sixth at 125 and Lucas Daprile finished sixth at 145.
"We have a strong team this year, and we thought we had a real shot at winning this thing. But hats off to Howland, and we will take our second-place trophy. I am proud of all of our kids, especially Robby and Alex. Now we need to get ready for sectionals and then districts."
Sectionals will be contested Friday and Saturday. Canfield will compete in the Division II sectional tournament at West Branch High School.
More like this from vindy.com