Food, clothing outreach continues at Pleasant Valley Church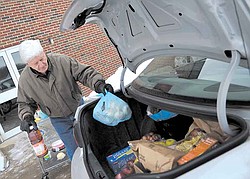 Photo
Volunteer Mel Petefish of Liberty, loads a car full of donated food from Share Outreach program Wednesday afternoon. The program runs out of the Pleasant Valley Church in Niles once a week and provides food and clothing to those in need.
Share Outreach at Pleasant Valley Church
Share Outreach ministry sponsored by Pleasant Valley Church, 2055 Pleasant Valley Road, Liberty, is a food-and-clothing ministry of the church.
Who: The program is now limited to Trumbull County
residents. Previously enrolled Mahoning County residents remain.
When: 4 to 6 p.m. every Wednesday; any fifth Wednesday, the program is closed. Clients may participate once a month.
What: Free food, clothing and linens are distributed.
Clients must fill out church and government forms that include family size and income. Clients must provide proof of residence, information on dependent children, photo ID and proof of income.
Also available: The ministry also has information about free help with home heating and free cell phones. It also has information on free mammograms and PAP tests.
Budget: The $12,000 annual budget falls under missions in the general church budget. "This is part of benevolence," said Sharon Ryzner, Share Outreach coordinator with Grace Fusco. About $2,000 to $3,000 comes in as other donations to the ministry, and there is a special Christmas offering earmarked for it.
Contact: 330-539-6582 or www.pvchurch.net.
By LINDA M. LINONIS
LIBERTY
Clients of Share Outreach at Pleasant Valley Evangelical Church arrive with need of food and clothing and leave with practical help in hand.
What happens in the rooms and hallway in their journey is a remarkable assembly line of activity. It's where the clients of the food-and-clothing giveaway sponsored by the church are processed. But that's a clinical-sounding word for the caring approach that church volunteers take with those who come for help.
Grace Fusco and Sharon Ryzner coordinate Share Outreach, a weekly ministry that the church began more than 15 years ago. "Bonnie and Phil Osbourne have been with it the longest," Fusco said. "In the beginning, they delivered the food to clients."
Today, that would be logistically overwhelming for 35-40 church and community volunteers who serve in the program. Weekly, the church distributes food to a fluctuating number of families ranging from 50 to 90.
Clients file into the church hallway and find a seat; first-timers fill out church and government forms. The first-timers then talk with Fusco and other volunteers; their information goes into the ministry's computer files.
"This isn't something you choose, God chooses you," Fusco said of ministry involvement.
A church member for some 28 years and ministry participant for some 13, Fusco said the ministry "was about not losing hope or giving up on God but sharing the love of God."
Those already registered in Share Outreach sign the clipboard and wait their turn. From the clipboard, their name and family size — for example, two, four or six — is transferred to another form, which goes to the food-storage room. There, Merle Linsenbigler, food-staples chairman, and his crew fill boxes with food tailored to family size.
A chart hangs above the food stacks for volunteers to check how many cans of vegetables, soup or other food items a family of two or six should receive. "What we give out is enough food for a week," Linsenbigler said. Stacks of food start to disappear as forms are filled and names are called out to get their boxes.
Linsenbigler got involved about five years ago. He said the program revolves around the "Christian ethic of taking care of one another."
Volunteers who handle the paperwork mark if a client is having a birthday that month. "We do get various cakes donated, so we use them this way," Ryzner said. She credited Jimmy's Italian Specialties, Giant Eagle and Panera Bread with donations of bread and pastries.
Carm Rees, chairwoman of food distribution, handles the ordering. She looks for the best use of the money she spends. "I have five volunteers who pick up the food," she said. The church buys from Second Harvest Food Bank. This week, the church got free apples, yogurt, potatoes and onions. She said Ohio- produced food items are free through Second Harvest, and that is a bonus for the ministry. Meat and cheese also are included in recipients' boxes.
Rees said this week she spoke to a woman who is a first-time recipient. "She told me it was very hard for her."
Both Rees and Ryzner said the church volunteers try to make it easy. "We see the working poor," Rees said. "They have jobs, but the money is not enough to make it."
The two women said Share Outreach has seen a changing face of recipients. In years past, there were more seniors on limited incomes. Today, Rees said, it's all ages — from 18 and older. "We're seeing more middle-aged people who have lost their jobs and need help," she said.
In the face of this need, Ryzner said, "God is supplying. We've never run out of food."
Jane Leonard oversees the clothes room, where coats, clothing and linens are available to program participants. Donations of clothing for men, women, children and infants make this possible.