Big crowd sees Howland drop Harding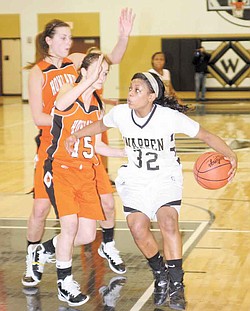 Photo
Warren Harding's Kourtney Williams (32) drives to the hoop as (15) Paige Loychik (15) and Taylor Williams defend during their basketball game Thursday in Warren. The Tigers (17-1) took the lead midwaythrough the first period and never trailed on the way to a 45-44 victory.
Prep basketball
Howland 45
Harding 44
Next: Howland vs.
Conneaut, Monday, 7:30 p.m.
Next: Harding vs.
Shaker Heights,
Saturday, 7:30 p.m.
By Doug Chapin
Warren
They pulled out the bleachers on both sides of the Harding High gym Thursday night for a good-sized crowd which showed up for the girls basketball showdown between the Raiders and Howland High.
The Williams girls stood out as expected, and the teams treated the crowd to a close defensive struggle. The Tigers (17-1) took the lead midway through the first period and never trailed on the way to a 45-44 victory.
"We won't have a crowd this good the rest of the year," Howland coach John Diehl said. "No matter how far we get in the tournament, this is the crowd. It was a big night for both teams.
"The last five years this rivalry has been tremendous. It's bragging rights for a year. They had it for a year. They beat us last year in a good game and now we get to brag for a year."
Harding coach P.J. Notar said it might have been the biggest girls crowd at an area game this season.
"Both teams gave their fans their money's worth tonight," he said. "It was a great game to see. The rivalry is good for the community. Both teams were professional, both want to win, both showed great sportsmanship.
"It was a great game. If you missed the game tonight you really missed a great girls game."
Howland's junior center Taylor Williams had a monster game with 25 points, 14 rebounds, three blocked shots and three assists. Kaylee Redon scored 10 points for the Tigers and Olivia Nicholas dished out seven assists.
Harding's Williams, senior forward Kourtney Williams, countered with 17 points and nine rebounds. Brianna McCurdy added 14 points and Anita Brown had nine points and six rebounds.
Howland led 12-11 after one quarter, 25-19 at halftime and 35-30 after three quarters. The Raiders (13-4) tied the game 28-28 midway through period three and Howland's largest lead was 37-30 early in the fourth quarter.
"Taylor didn't touch the ball for like the first five possessions," Diehl said about his team's early offensive struggles. "I took a timeout and told the guards 'She [Williams] has to touch the ball.' I think we got it to her the next couple of times after that and that helped open it up a little bit.
"Our guards are pretty good shooters and I might have scared them from shooting a little bit during that timeout. I'm not sure if we took another three after that timeout and that's not exactly what I wanted to have happen. We wanted to get it inside and set up better shots outside, but maybe I scared them a little and they didn't take them."
Notar lamented the fact his team didn't take full advantage of Howland's early problems.
"We missed a lot of opportunities in the first quarter, layups. If we hit them, we have the lead and everything's good," he said. "I thought my girls played harder, I thought our game plan was better. We have lost four games by one point, it's been little things.
"Give them credit, they have a fantastic program, they have a great player in Williams. You've got to make your decision, let her get hers and try to stop everybody else. She started to dominate there after a while. It is what it is. We came up short, we gave a gallant effort and I couldn't be prouder of the girls."