Vigil recalls Johnson as peacemaker, hero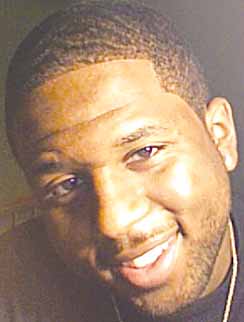 Photo
Jamail E. Johnson, 25, of Youngstown, was killed during a shooting that injured 11 others early Sunday at 55 Indiana Ave. near YSU.
YSU Tragedy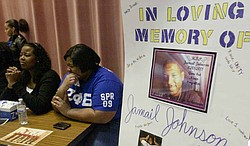 Gallery
By Jeanne Starmack
YOUNGSTOWN
The message at Union Baptist Church on Wednesday evening was clear.
It's OK to grieve. It's OK to be angry. But Jamail Johnson's life, cut short by gunfire at a party Sunday morning, wasn't in vain.
Johnson, 25, died trying to keep the peace during an argument at the party at a house on Indiana Avenue, reports have indicated. He was hailed at a vigil at the church on Lincoln Avenue as a peacemaker, a hero and an example to follow.
The road that leads beyond the grief and the anger prompted by his death doesn't need to be traveled alone, said the Rev. Michael Harrison, Union Baptist pastor. That sentiment would be the gist of his message to the YSU students expected to attend the vigil, he said as the church was filling up.
Some of the people at the party Sunday when two men opened fire were YSU students. Johnson was a YSU senior, and half of 11 more shooting victims who survived go to the school. Students who attend Union Baptist have been calling him looking for answers, the Rev. Mr. Harrison said.
He assured the many students who were there Wednesday that the community stands behind them as they journey past the tragedy. He called them to the front of the church, which was packed with people, and told them Jamail taught them how to touch and encourage people and say, "I got your back."
He asked God to unify the city, and mentioned that the parents of the two shooters also need support.
"Teach us how to love one another and lay down hatred," he said.
The answer to the violence, said Harrison and several guest pastors, is to reconcile with God and respect other people.
"We must treat each other as the souls God blew his breath into," said the Rev. Amariah McIntosh of Phillips Chapel CME.
Community members who came out to show their support had their own thoughts about stopping violence.
"If we can get the guns off the streets ...," said Bernadette Hall of Youngstown.
YSU students said afterward that the service helped them to feel better.
Isaiah Lee, a friend of Johnson's who attends the church, said he could tell many of the friends who came with him were touched by it.
He said his friend died saving lives, and will "bring a lot of lives home to God."
"From my heart — he was just a good person," Lee said.