Mental-health agencies, other universities offer help
YSU Tragedy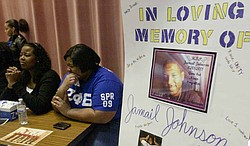 Gallery
YSU Tragedy 911 calls
3:38 a.m. - Audio Clip
3:39 a.m. - Audio Clip
3:39 a.m. - Audio Clip
3:40 a.m. - Audio Clip
3:40 a.m. - Audio Clip
3:40 a.m. - Audio Clip
3:41 a.m. - Audio Clip
3:41 a.m. - Audio Clip
3:42 a.m. - Audio Clip
3:42 a.m. - Audio Clip
3:43 a.m. - Audio Clip

Audio Clip Set
By Denise Dick
YOUNGSTOWN
Youngstown State University has received calls offering help and support from area mental-health agencies as well as colleges and universities throughout the country.
The phone calls and e-mails came in the wake of a weekend shooting at an off-campus party that left one student, Jamail Johnson, dead and several others injured.
Anne Lally, mental-health counselor at YSU, said one e-mail came from the director of counseling at Virginia Tech where in 2007, a gunman killed 32 people and then himself.
"It's not unusual," she said of the offers of help.
Colleges and universities, including their counseling departments, are a close group, and the community also bands together, particularly during difficult times.
The calls offered help with counseling students as well as support.
Other calls came from a director at Valley Counseling Center, Thomas Kupek, a counselor in Canfield; and several other colleges and universities.
Volunteers from Turning Point Counseling as well as YSU's counseling services were available this week for students who needed help dealing with the tragedy.
Lally stressed that any students who need services may contact the office of career and counseling services inside Jones Hall.
"What they've been struggling with is why," she said. "Why did this happen to this person or why not me."
While some students sought help right after the tragedy, others may need counseling later.
"It's not always immediately that they seek services," she said. "Everyone has their own path for the grief process."
They may discover they need help weeks or months from now.
Services for Johnson are planned for 10 a.m. Saturday in Beeghly Center at YSU. Calling hours are from noon to 8 p.m. Friday at the L.E. Black, Phillips and Holden Funeral Home and from 8 a.m. to 9:20 a.m. Saturday at Beeghly.
Members of Omega Psi Phi, of which Johnson was a member, will have a memorial service at 9:20 a.m. Saturday.
A senior business-management major, Johnson was to graduate in May. He leaves his mother and stepfather, Shirlene and Sidney Hill of Liberty, and father and stepmother, Earl and Tammy Johnson of Youngstown, among his survivors.
Greek organizations on campus made purple and gold ribbons, the fraternity's colors, and have been handing them out throughout campus this week, according to YSU's website.