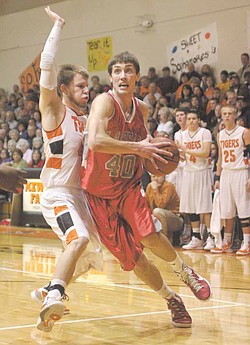 Special to the Vindicator

Photo
BOYS BBALL - Jacob Jaros (40) drives to the hoop as Brian Moser (44) plays tight defense during their game Tuesday evening.
Labrae 41
N. Falls 36
Next: LaBrae at Champion, Friday, 7:30 p.m.
Next: Newton Falls at Jefferson, Friday, 7:30 p.m.
Vikes take control in conference with win over N.F.
By Doug Chapin
NEWTON FALLS
Seniors Andrew Sekela and Andre Elkins combined to score just six points for LaBrae High Tuesday night. But they might have been the two most important players on the floor in the Vikings' 41-36 triumph over host Newton Falls.
Sekela and Elkins took turns guarding the Tigers' top scorer, junior forward Cody Dillon, and held him to just nine points on just 3-for-6 shooting from the field.
"They are great athletes, they really are. Cody's one of the best players in our area. When he gets the ball he's tough to stop so we tried to keep the ball out of his hands," LaBrae coach Chad Kiser said. "Those two did an excellent job just trying to take him away and really wear him down too. To give up 36 points against them was just a great team effort."
"They really concentrated on guarding him [Dillon], denying him, helping on him," Newton Falls coach Roy Sembach added. "We need to have some of our other people, and they are very capable of scoring, get things going, and get Cody freed up in some other ways than normal. They did a very good job on him."
For LaBrae (13-1, 5-0 All-American Conference Blue Division) it was the second victory over Falls. The Vikings captured a 56-53 triumph at home earlier in the season. The two schools have played for the Division III District title at Howland each of the last two seasons and could be headed for another showdown this year.
"It's ... a familiarity thing," Kiser said. "We've played each other so much now over the last few years that now you call out a play and both teams know what's coming."
Jacob Jaros scored 15 points and freshman Peyton Aldridge had 13 to lead the Vikings. Point guard Matt Szorady was held to seven points. LaBrae had 10 assists on 14 made field goals and all five starters had at least one assist. The Vikings also were perfect (9-for-9) from the foul line.
Senior Tyler Kernen led Newton Falls (11-4, 2-3 AAC Blue) with 13 points, including 11 in the first quarter. However, he was saddled with foul problems and fouled out with just over two minutes left in the game.
Falls led 13-9 after one quarter and 19-15 at halftime. The score was 26-26 after three quarters and the Tigers led 36-35 with 1:56 remaining. Sekela then scored his only basket of the night on a nice feed from Jaros. Both Aldridge and Szorady converted both ends of one-and-one free throw opportunities in the final 34 seconds to clinch the victory.
"A typical game for us and LaBrae, it comes down to a couple of possessions. A couple times the ball was in our hands and they ripped it out of our hands and scored, that's the difference in a big basketball game like this," Sembach said. "When you get the ball you've got to secure it and take care of the ball because every possession is critical. I thought a couple of our offensive possessions at the end of the game weren't real productive either."
Kiser, on the other hand, was pleased with his team's performance at the end of the game.
"Down the stretch we took care of the ball for the most part and made free throws," he said. "I thought we moved the ball well under pressure in the last few minutes. It was execution down the stretch, what we didn't do the whole game. Not missing any free throws all game is big. The confidence is there, I don't think it mattered which guy was shooting."