Marsico defends, explains county raises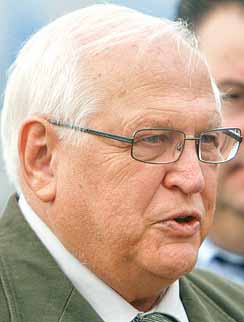 Photo
Mahoning County Engineer Richard Marsico
YOUNGSTOWN
Mahoning County Engineer Richard Marsico defended $70,242 in salary increases to his staff as county commissioners grilled him during a staff meeting Tuesday.
He said the increases came in two forms:
$34,486 in pay increases he gave, effective Jan. 17, to five professional engineers on his staff.
$35,755 that was converted Jan. 1 from annual allowances for such items as clothing, boots and cellular phones, into each of 23 non-union employees' hourly compensation.
Marsico said his professional staff has taken on additional duties that justify a reward.
"Everybody on the professional staff is doing more and has more responsibilities, and that's why I gave raises to the professional staff," Marsico told county commissioners, noting the engineers now do road construction management, which previously was done by a consulting firm.
Furthermore, the allowances for the non-union employees — though they were processed as salary increases — do not constitute a pay increase, Marilyn Kenner, chief deputy engineer said.
Kenner said the allowances — $500 for clothing, $150 for boots and $350 for cellular phones — were rolled into the hourly pay for these employees for two reasons.
First, she said her office intends to negotiate with the Teamsters' union, which represents drivers and mechanics, to replace those allowances with county-issued uniforms and boots.
Second, she said her office wanted to keep non-union employees' total compensation unchanged after they had received no pay raises for two years and taken monthly unpaid furlough days between January and October 2010.
However, the previous allowances were given to the employees to spend at will, and employees were not required to get receipts for purchases of boots, clothing and cellular phone plans to document how the money was spent to be reimbursed, Marsico said.
"They received the cash and what they did with it was their business," he said.
Some of those getting the boot and clothing allowance were clerical workers who never left the office, Marsico acknowledged.
The explanations came as commissioners questioned the timing of the increases.
"I just question the wisdom of doing this at this most critical time in our economy," County Commissioner Anthony T. Traficanti said of the raises. "I wish you wouldn't have done it," he added.
"I can assure you the public doesn't see it the way you're explaining it," Traficanti told Marsico and Kenner.
"That wasn't good timing on this," said Commissioner Carol Rimedio-Righetti.
But Marsico noted the five professional engineers received increases between $3.09 and $4.26 per hour.
Those engineers and their current annual salaries are: Marilyn Kenner, chief deputy engineer, $95,921; Michael Stipetich, construction design engineer, $81,308; Robert Donham, traffic engineer, $79,808; Timothy Burkert, construction design engineer, $81,843; and Randall Partika, bridge engineer, $82,165.
Kenner said Marsico decided to compensate his engineers at rates comparable to those of the Ohio Department of Transportation.
Those five engineers were the only staff to get raises, Marsico said.
Had the raises not been granted, the $34,486 would not have been sufficient to cover the annual cost of recalling even one additional laid-off union member, Marsico said.
To enable it to resume snow and ice removal, the engineer's office recalled in late November five truck drivers and a mechanic, who were among 16 employees it had laid off in 2010.
When his office suffered a $1.5 million funding loss due to declining gasoline tax and license plate revenues, it cut costs by denying raises to non-union staff and imposing the furlough days on them, Marsico said.
Meanwhile, the union members have continued to receive 3 percent annual pay raises for the last three years, he added.
Union members were laid off because they wouldn't take concessions, Kenner said.
Traficanti asked Marsico whether any of the engineer's office employees would likely have quit their jobs if their allowances had simply been canceled and not made part of their hourly compensation.
"It's hard to say," Marsico replied.
"Some might have," Kenner said.
The commissioners went into executive session to discuss forthcoming negotiations, which begin Feb. 22 with the Teamsters, whose contract expires April 30. The commissioners approve all county labor contracts.
The commissioners are scheduled to meet with County Prosecutor Paul J. Gains at 1 p.m. Thursday to discuss raises he granted to his assistant prosecutors on Jan. 31.
Unlike the engineer's office, which is funded entirely by gasoline tax, license plate fees and fines, the prosecutor's office is funded from the county's general fund, over which the commissioners have control. The prosecutor's office has no union.
More like this from vindy.com