Sororities, frats pay tribute with ribbons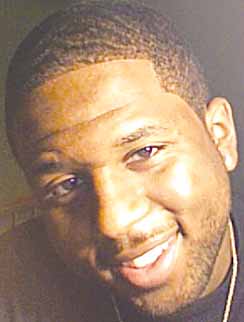 Photo
Jamail E. Johnson, 25, of Youngstown, was killed during a shooting that injured 11 others early Sunday at 55 Indiana Ave. near YSU.
YSU Tragedy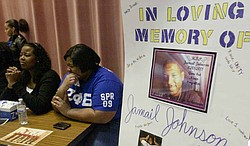 Gallery
YSU Tragedy 911 calls
3:38 a.m. - Audio Clip
3:39 a.m. - Audio Clip
3:39 a.m. - Audio Clip
3:40 a.m. - Audio Clip
3:40 a.m. - Audio Clip
3:40 a.m. - Audio Clip
3:41 a.m. - Audio Clip
3:41 a.m. - Audio Clip
3:42 a.m. - Audio Clip
3:42 a.m. - Audio Clip
3:43 a.m. - Audio Clip

Audio Clip Set
YOUNGSTOWN
Members of Youngstown State University sororities and fraternities gathered Monday evening to remember Jamail Johnson and those wounded in weekend shootings near campus.
More than 50 students met at Peaberry's Caf in YSU's Kilcawley Center to make purple and gold ribbons to pass out and wear. Purple and gold are Omega Psi Phi fraternity colors, and the shootings took place in a house where many of the brothers lived.
"He was just real cool," sophomore Lelia Clark said of Johnson. "I'm surprised it even happened at that house. I always felt safe there."
Clark and others found out about Sunday's events through e-mail and text alerts from the university as well as word of mouth.
"I really appreciated how fast they got the e-mail out," said senior Melania Vlad. "I think it did a lot to clarify things."
Nearby in the Chestnut Room of the Kilcawley Center, dozens more students gathered for a prayer service sponsored by the Collegiate, Black and Christian organization, or CBC.
CBC administrator and senior Sasha Hill said she felt students needed prayer after the weekend's events.
"People need to know that in the midst of tragedy, God is still present," she said. "We just want to offer something to the students."
Hill had students pray with one another during the hour event. They stood in small circles with their eyes closed, holding hands and whispering prayers.
Hill said CBC will likely have more events in response to the shooting throughout the week.