Officials seek ways to counter pay raises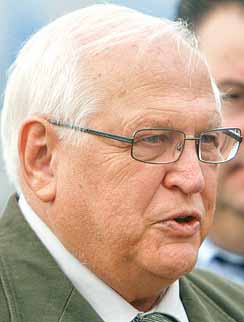 Photo
Mahoning County Engineer Richard Marsico

Photo
Commissioners plan to meet with Marsico, Gains
YOUNGSTOWN
The Mahoning County commissioners will explore remedies available to them to counter the pay raises recently granted to employees of the prosecutor's and engineer's offices.
The commissioners plan to discuss the pay raises in staff meetings with Engineer Richard Marsico at 10 a.m. today and tentatively with Prosecutor Paul J. Gains at 1 p.m. Thursday.
"The commissioners don't set individual pay scales for employees in other departments of other elected officials, but we do appropriate the money. ... That's where the commissioners have some control over this process," said John A. McNally IV, chairman of the county commissioners.
"We could take back money that's been appropriated," McNally said. "I was stunned at the size of the raises" in the prosecutor's office.
The raises there ranged from less than 3 percent to 22 percent, with the 22 percent raise occurring with a promotion.
Though McNally said he was stunned by the pay increases in Gains' office, commissioners did approve a $282,000 increase in his criminal- division budget in December. That vote followed a November budget hearing in which Gains asked for an increase of more than 60 percent in his budget to raise the pay in the prosecutor's office.
"We're the appropriating authority. We can give money, and we can take money back" from general-fund departments, McNally said. It would be easier for the commissioners to make a change in Gains' budget because Gains' budget comes from the county's general fund, whereas the engineer's budget comes from a legally prescribed mix of fuel taxes and license-plate fees, he added.
"I don't know what power we would have over Mr. Marsico's office at this point," McNally said.
"I want this full board to hear from them [Gains and Marsico], and then the full board will make a decision on what we're going to do with their budgets," McNally said.
"I was rather shocked to see that department heads would actually have raises like that in this type of economy we're in right now," said Commissioner Carol Rimedio-Righetti, who took office Jan. 1. "I don't know where they think all this money is going to come from."
"I'm not real sure what could be done. What I can say is that we're definitely going to look into it," Righetti said of potential remedies.
As to whether she'd consider reducing the budgets for the prosecutor and engineer if the raises aren't rescinded, Righetti said: "I'd like to hear more about that before I commit to what I would definitely say, but that would be one option I would be considering."
As for Marsico's comment in Thursday's commissioners' meeting that the raises are personnel matters that shouldn't be discussed in public session, Righetti said, "Totals are public record."
She said, however, the worthiness of individual employees for raises based on their job performance could properly be discussed in executive session.
Righetti said she believes recalling more laid-off snow-and-ice-removal drivers to cope with the unusually snowy and icy winter would be a better use of the engineer's funds than granting raises.
To enable it to resume snow and ice removal, the engineer's office recalled in late November five truck drivers and a mechanic, who were among 16 employees it had laid off earlier in 2010.
In the engineer's department, some $65,000 in raises were given to 23 nonunion employees effective Jan. 2.
In the prosecutor's office, 32 employees received pay increases in varying amounts, effective Jan. 31, for a total of $197,000 in raises.
Gains had requested in a November budget hearing a double-digit increase in his budget to enable him to grant pay increases he said were necessary to be competitive in the job market and to reduce staff turnover.
"I'm not quite sold on that," said Righetti, referring to "an overwhelming amount of attorneys" in Mahoning County.
Gains has experienced little turnover in recent years in his civil division, McNally said.
Gains sought budget increases from $1.7 million in 2010 to $2,708,284 in 2011 in his criminal division and from $800,000 to $1,384,499 in his civil division.
The commissioners actually gave him $1,982,000 for the criminal division and $810,000 for the civil division for 2011.
Gains said he is leaving 10 lawyer positions and 14 support staff positions vacant. No money is coming from other county departments to pay for the salary increases in his department, he said.
Several years ago, Gains requested and received from the commissioners additional funds to hire more criminal prosecutors, McNally recalled.
On Friday, Gains said his strategy is to pay competitive salaries to retain fewer, better and more productive prosecutors.
"Is it: We need more, or is it, we need less?" McNally asked. "It can be spun however you want to spin it."
More like this from vindy.com