YSU students describe post-shooting campus as 'dim'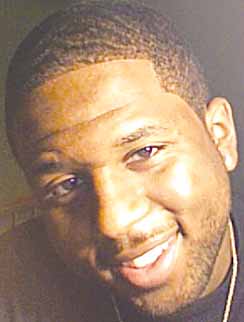 Photo
Jamail E. Johnson, 25, of Youngstown, was killed during a shooting that injured 11 others early Sunday at 55 Indiana Ave. near YSU.
YSU Tragedy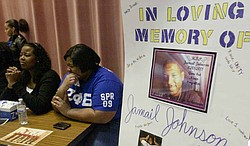 Gallery
A prayer vigil will be at 6:30 p.m. Wednesday at Union Baptist
Church, Lincoln Avenue, Youngstown. The Rev. Michael Harrison said the vigil is to not only allow YSU students and the community to begin to heal, but also to "change the mentality among our young people so they can understand the preciousness of human life."
YSU Tragedy 911 calls
3:38 a.m. - Audio Clip
3:39 a.m. - Audio Clip
3:39 a.m. - Audio Clip
3:40 a.m. - Audio Clip
3:40 a.m. - Audio Clip
3:40 a.m. - Audio Clip
3:41 a.m. - Audio Clip
3:41 a.m. - Audio Clip
3:42 a.m. - Audio Clip
3:42 a.m. - Audio Clip
3:43 a.m. - Audio Clip

Audio Clip Set
By Denise Dick
YOUNGSTOWN
Youngstown State University students describe the mood on campus as dim after shootings that killed one student and left several others injured.
"Everybody is really, really angry," said Dezmond Riley, 21, of Liberty, who is studying art. "It's just very dim around here."
People are angry that innocent people were injured or killed because of someone else's stupid act, he said.
Both he and Stephen Rada, 21, of Girard, a business-management major, knew one of the victims, Jordon Wagner, 20, who was shot several times.
"He never did anything to anybody, and he gets shot six times," Riley said.
The Sunday morning shootings at an off-campus, after-hours party left YSU senior Jamail Johnson dead.
"People just wanted to get together at a party and have a good time, and all of a sudden someone with a gun has to ruin it," Riley said.
Rada said he doesn't feel unsafe on campus, but the idea that the incident happened so close to where he goes to school is scary.
Ralph Rich, 23, of Hubbard, an English literature major, said that even though the shooting occurred off campus, it's something that has affected students and the campus.
When Rich arrived Monday, he saw a maintenance employee lowering one of the flags to half-staff in memory of the student who died.
It recalls thoughts of shootings at Columbine High School and Virginia Tech, he said, and even though he wouldn't put this in the same category as those tragedies, it's something students likely will remember for many years, Rich said.
Tyler Thompson, a criminal-justice major, and Tejohn Lawrence, a multi-media major, and both 19 and freshmen from Youngstown, arrived at the party to pick up a friend who was attending.
At first it was calm, with everyone just having fun.
"I saw the fight, but I didn't see who was fighting," Lawrence said.
Shortly after their arrival, gunmen fired into the open doorway of the Indiana Avenue house.
"People started to go to the floor," Lawrence said. "It was like a domino effect."
Lawrence had been shot in the foot and Thompson in the thigh.
"I didn't know I had been shot," Thompson said.
When the shooting stopped, the two young men ran out the back door and to their car. Thompson drove Lawrence to the hospital but didn't realize his own injury until Lawrence pointed it out to him.
It was a frightening night, they said.
"I didn't sleep," Thompson said.
The two sat Monday morning surrounded by friends in the Lariccia Family Student Lounge inside Kilcawley Center on campus, Lawrence's crutches leaning against a couch.
One of those friends was sophomore Julius Thomas, 21, of Youngstown, also a criminal-justice major. He said incidents such as the one Sunday are the reason he doesn't go to parties.
"You can't even really go out in the clubs and hang out with your friends," Thomas said.
Bishop George V. Murry of the Diocese of Youngstown expressed his sympathies for the victims and their families.
"On behalf of the Catholic Community of the Diocese of Youngstown, my deepest sympathies and prayers go out to the family and friends of Jamail Johnson, 25, who died from gunshot wounds while trying to help quiet a dispute, for those injured, and to all those who were affected by such an act of violence.
"The violent loss of life is a reminder to all of us that disputes and disagreements should not be handled through the use of weapons," Bishop Murry said in a statement. "Tragedies such as this cause us to pause to reflect upon the sacredness and dignity of life. Not only has a family lost a young man through this incident, but our community has been marred by an increase in deadly violence.
"I ask that as we pour out our prayers for the victims of this shooting, let us also pray that men and women of good will work together to build a community based on peaceful resolution of disputes and work to reduce violence in our neighborhoods."
A prayer service by the Office of Student Diversity on Monday afternoon in Kilcawley's Chestnut Room honored Johnson's memory.
A poster with photographs of the young man stood in the entrance and members of one of the sororities on campus were collecting donations for Johnson's family.
Sophomore Adrian Watson of Cleveland, an English major, wrote a poem, "The Dedicatiqn," in memory of his friend. The Q in the title represents Johnson's fraternity, Omega Psi Phi, whose members call themselves the Que Dawgs, he said.
Watson wiped away tears and broke down a few times while reading the poem that spoke of his friend's warm disposition and easy smile.
He said he often went to parties at the house where the shootings occurred but opted to stay in and study early Sunday. Reports that Johnson died while trying to usher others away from the gunfire came as no surprise to Watson.
"He was a brave dude," he said.
Junior Marteece Waters, 23, of Akron, a finance major, said Johnson was well-liked, nonconfrontational and a gentleman.
"He was not a 'guy in the street,'" Waters said.
He said those who knew Johnson are doing their best to cope with the tragedy.
Freshman Isaiah Lee, 19, of Cleveland, a religious-studies major, is one of those friends. He led those attending the prayer service in a rendition of "Let Go, Let God."
Lee was staying at the Indiana Avenue house and was asleep upstairs when the shooting happened. His girlfriend ran upstairs to wake him.
"At first I was scared to go downstairs, but then I said, 'Let me go and make sure everyone is all right,'" he said.
Lee saw blood all over the house and a man, who wasn't moving, lying on the floor. He couldn't see his face at first.
"I was praying, 'God, please don't let that be who I think it is,'" Lee said.
He saw one of the fraternity brothers outside crying and another throwing angry punches in the air. Then Lee saw that the person on the floor was Johnson, his good friend.
"At that time, he was alive," Lee said.
He wasn't talking, but Johnson was calm, Lee said. As emergency crews tended to Johnson, Lee went outside to check on others who had been in the house.
"Then someone came out and said, 'He's dead, he's dead, he's dead,'" he said.
He went back into the house, saw his dead friend and lost it.
"Everything in me just came out," he said. "I was wailing."