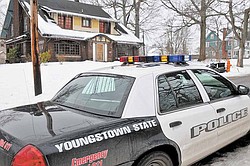 ASSOCIATED PRESS

Photo
A Youngstown State Police University officer patrols the street near the location of an early morning shooting at a fraternity house just north of the Youngstown State University campus that left student Jamail E. Johnson, 25 of Youngstown dead and 11 injured Sunday, Feb. 6, 2011 in Youngstown, Ohio.
Shooting at YSU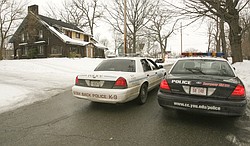 Video
Authorities in northeast Ohio say a shooting at a fraternity house just north of the Youngstown State University campus killed one student and injured 11 people, including six students.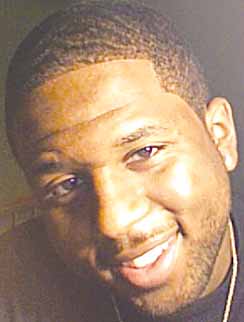 Photo
Jamail E. Johnson, 25, of Youngstown, was killed during a shooting that injured 11 others early Sunday at 55 Indiana Ave. near YSU.
VICTIMS' LIST
Dead and wounded
The Youngstown Police Department has released this list of the dead and injured from Sunday's shootings in a house on Indiana Avenue near the campus of Youngstown State University. Six of the victims were YSU students. All are from Youngstown except one Girard victim. All but three had been treated and released from St. Elizabeth Health Center as of late Sunday afternoon.
Jamail Johnson, 25, 55 Indiana Ave., Youngstown, died from gunshot wound.
Durrell Richardson, 31, 410 Elruth Court, Girard, shot in left thigh.
Shavai Owens, 17, Youngstown, shot in right ear, critical condition late Sunday afternoon.
Jaleesa Moore, 20, Youngstown, shot in the arm and abdomen.
Sean Griffin, 20, Youngstown, shot in the foot.
Ebony Michel, 20, Youngstown, shot in the foot.
Jordon Wagner, 20, Youngstown, shot in the shoulder and foot.
Tejohn Lawrence, 19, Youngstown, shot in the foot.
Jamie Ruffin, 20, Youngstown, shot in the pelvis.
D'Anthony Brown, 17, Youngstown, shot in the foot.
Lisetle Encarnacion, 19, Youngstown, shot in the buttocks.
Selina Howard, 17, Youngstown, abrasion wound to the wrist.
YSU Tragedy 911 calls
3:38 a.m. - Audio Clip
3:39 a.m. - Audio Clip
3:39 a.m. - Audio Clip
3:40 a.m. - Audio Clip
3:40 a.m. - Audio Clip
3:40 a.m. - Audio Clip
3:41 a.m. - Audio Clip
3:41 a.m. - Audio Clip
3:42 a.m. - Audio Clip
3:42 a.m. - Audio Clip
3:43 a.m. - Audio Clip

Audio Clip Set
By Ed Runyan | runyan@vindy.com
YOUNGSTOWN
Police say they only know that a "disagreement" caused two Youngstown men in their early 20s to return a second time to a fraternity member's house near Youngstown State University and open fire on about 50 people early Sunday.
The shots from two guns killed one man, Jamail Johnson, 25, critically injured a 17-year-old girl and caused lesser injuries to 10 others. The shootings occurred at about 3:40 a.m.
The Violent Crimes Task Force arrested Braylon L. Rogers, 19, of 174 East Lucius Avenue at the corner of Hudson and Parkcliffe avenues on the Southside at 4 p.m.
They arrested Columbus E. Jones Jr., 22, of 529 Cambridge Avenue at 4:50 p.m., police said.
Mahoning County Common Pleas Court records say Jones was convicted in February 2008 of burglary and sentenced to three years in prison. He was released from prison on judicial release in April 2009.
Half of the shooting victims are YSU students. Johnson was a senior at YSU. Neither of the shooters are YSU students, police said.
At a press conference Sunday afternoon, Youngstown 1st Ward Councilwoman Annie Gillam said it's hard to make sense of the tragedy, which occurred in her ward of the city.
"It's a sad day. We need to find a way to make our young people value life — their own and other people's lives and how to deal with conflict," she said.
Johnson, 25, of Youngstown, the man killed, apparently tried to make one of the suspects leave the house where some Omega Psi Phi members lived, police said.
Police Chief Jimmy Hughes said Johnson had escorted one of them out of the house himself. The second man left on his own.
But the two men returned a short time later and "shot through the open doorway" into the house on Indiana Avenue, police said.
The house is couple blocks north of the university.
Shavai Owens, 17, of Youngstown, was shot in the head and remained in critical condition at St. Elizabeth Health Center Sunday night, police said at a press conference. She was shot in the ear.
Many of the other victims were hit in their feet and other limbs were much less seriously hurt. Most of them had been released from the hospital by Sunday night.
One of the victims is from Girard. The 11 others are from Youngstown.
The two suspects are in the Mahoning Count jail, charged with aggravated murder, firing into a habitation and 11 counts of felonious assault.
One of the men turned himself in at the Youngstown Police Department Sunday afternoon and the other was picked up at his home on Youngstown's South Side at just before 5 p.m.
Police said the shooters came to an "after hours" party at the fraternity. Those in attendance only showed up there at around 2 a.m., some of them coming from other parties. It's possible that a dispute may have arisen at another party earlier in the night and spilled over to the fraternity, police said.
Hughes and Capt. Rod Foley said it is still not known whether gunfire that occurred at the Love Lounge on West Federal Street at about 1:30 a.m. Sunday or a fight at the Choices Lounge at the MetroPlex in Liberty are related to the fraternity shooting. No injuries resulted from the gunfire at the Love Lounge.
Hughes said some of the people at the fraternity house at the time of the shooting had been to parties at "three to four locations" in the area Sunday.
Foley said the party at the house seems to have developed through text-messaging and using Facebook to learn that a gathering was taking place after the bars had closed.
The house doesn't have a history of trouble or loud parties, Hughes said.
YSU President Cynthia E. Anderson asked for the community's support and prayers at an early-afternoon press conference Sunday.
"This is one of the days that university presidents across the country dread," she said at Tod Hall.
Anderson stressed that the shooting didn't occur on campus and there was no threat to the campus.
Counselors and clergy were to be available to students Sunday and in the coming days.
Ron Cole, a YSU spokesman, said the Indiana Avenue house where the shootings occurred is home to members of the Omega Psi Phi fraternity although it's not a fraternity house.
The YSU chapter is called the Zeta Gamma Chapter.
"It was founded at YSU in the early to mid-1960s," Cole said. "It was unaffiliated at some point and reformed two or three years ago."
The YSU-sanctioned fraternity was in good standing with the university, Cole said.
"Gov. [John] Kasich called my office a little bit ago to express his condolences, his support and assistance to YSU and to the Mahoning Valley community," Anderson said.
Students, faculty and staff were notified of the shooting using YSU Alert, an emergency notification system.
Cole said that immediately following the shootings, campus police were stationed outside of student residence halls, monitoring students' comings and goings.
Because of the time that the shooting occurred, "most, if not all, of the students were in their halls at the time," he said.
Classes are to resume as scheduled today, Cole said.
Blood trails in the snow in front of the house and a YSU police car out front were the only outward indications of a problem that remained Sunday afternoon. There was one empty beer can in a side yard, but little else to suggest a party had taken place.
Beer bottles and cups overflowed trash bags at a sorority house next door, however. No one answered the door at the sorority house.
A block west of the brick two-story house, Rosa Figueroa of Park Avenue said she has never thought that the fraternity house was especially noisy.
"I've been here 20 years, and they're very quiet. They don't bother. If they were rowdy, we'd be complaining. They're very laid back," she said.
A neighbor a couple houses closer who didn't want to give her name said the house where the shootings took place has been the location of parties about two times the last couple months.
Youngstown Mayor Jay Williams said at a Sunday afternoon press conference that there is no way to "put a positive picture" on the incident but said the campus has been rated as among the safest in the state.
"It overshadows the progress we've made," Williams said of trying to reduce violence in the city as a whole.