Rodgers pays big divdends for Packers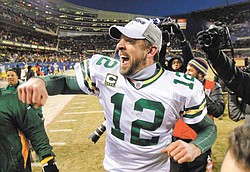 MCT

Photo
Green Bay Packers quarterback Aaron Rodgers (12) at the end of the NFC Championship game against the Chicago Bears on Sunday, January 23, 2011, at Soldier Field in Chicago, Illinois. The Packers won 21-14.
Associated Press
ARLINGTON, Texas
Absolutely no need to bring up Ol' What's His Name ever again. Aaron Rodgers is a Super Bowl championship quarterback in his own right.
And he's the game's MVP, too. That's an honor Brett Favre, his Green Bay Packers predecessor, never earned.
With precise passes and cool under pressure, Rodgers completed 24 of 39 passes for 304 yards, three touchdowns and no interceptions Sunday night to lead the Packers to a 31-25 victory over the Pittsburgh Steelers for Green Bay's first NFL title since Favre's in the January 1997 Super Bowl.
Rodgers is 27 years old, just as Favre was then. And after biding his time as a backup until the Packers split with Favre, Rodgers has quickly established himself as one of the game's best. This was his third full season as a starting QB, and he was particularly good throughout the playoffs, leading the No. 6 seed Packers to three NFC road victories before winning the championship Sunday.
"I've never felt like there's been a monkey on my back. The organization stood behind me, believed in me," said Rodgers, general manager Ted Thompson's first-round draft choice six years ago. "I told Ted back in 2005 he wouldn't be sorry with this pick. I told him in '08 that I was going to repay their trust and get us this opportunity."
Sure did, then made the most of it by throwing two TD passes to Greg Jennings and one to Jordy Nelson.
Don't forget, Rodgers' strong performance came against Pittsburgh's defense, the one that limited opponents to a league-low 14.5 points per game this season, and the one that features NFL Defensive Player of the Year Troy Polamalu and linebacker James Harrison.
"He is the reason they won," Steelers defensive lineman Brett Keisel said.
Added Pittsburgh coach Mike Tomlin: "He showed his mettle and continued to stand in there and throw the football accurately."
That's not all Rodgers did. He changed plays at the last moment, reading the defense before the snap and adjusting. He overcame a poor start, a couple of key drops and a third-quarter lapse. And he did it all without the benefit of any help from a Packers running game that was limited to 50 yards.
"We put everything on his shoulders," Packers coach Mike McCarthy said. "He did a lot at the line of scrimmage for us against a great defense."
Rodgers was hardly perfect all game. But perhaps he could be forgiven if he was experiencing some jitters: After all, the guy only played in one playoff game in his career before this season.
"We kind of struggled at times on offense," Rodgers said.
That's true. He began the game by overthrowing receivers and generally being off-kilter, completing only one of his first five passes.
Green Bay's second drive began with Rodgers overthrowing Jennings. And then? Rodgers couldn't miss. He went 5 for 5 for 63 yards, finishing the possession with a 29-yard toss to Nelson.
Late Packers fans filled Cowboys Stadium with choruses of "Aa-ron Rodg-ers!" and "M-V-P!"
"I didn't expect anything less from A-Rod," Packers defensive tackle B.J. Raji said.After the Packers stopped the Steelers' last drive, all he had to was walk on the field and kneel down to run out the clock. A short while later, Rodgers was clutching the Vince Lombardi Trophy, having joined Favre and Bart Starr as QBs who brought Super Bowl championships to the place they like to call Titletown USA.
More like this from vindy.com