Despite Steelers loss, Austintown fans find full season uplifting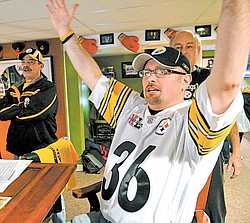 t

Photo
Steelers fans celebrate in the basement of Jim Davis of Austintown while watching the Steelers score a touchdown in Super Bowl XLV.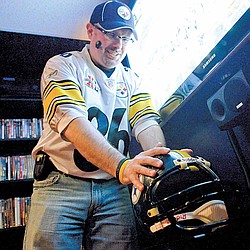 The Vindicator (Youngstown)

Photo
Jim Davis rubs a Steelers helmet in his Austintown basement for good luck. The helmet is signed by four members of the Steel Curtain Steelers teams. The Steelers scored their first touchdown of the night minutes later but eventually lost the game.
By Ed Runyan
AUSTINTOWN
Jim Davis and many of his lifelong friends have enjoyed great moments together over the years as athletes and sports fans.
Sunday night won't make their top 10.
"It's not going to make my highlight reel," he said after the game.
The NFL season didn't end the way Davis and about 10 of his friends had hoped when they gathered in Davis' basement Sunday night to watch Super Bowl XLV, but the journey to the Super Bowl was worth it.
Davis and friends watched football in Davis "ultimate guys' hangout" for 17 weeks of the regular season.
Then, they watched the Steelers three more times as the Black and Gold made their way to the Super Bowl.
"The three extra games, that's a big bonus," said Davis, 33, who is an Austintown Township trustee.
One of the things that has made the last two football seasons memorable is the basement sports room Davis built when he moved into his home on Pineridge Court two years ago.
He not only finished the basement and equipped it with a 50-inch television in a cinema room, but he added other television screens, a bar, and used the walls to display his impressive collection of sports memorabilia.
There are also Steelers jerseys, posters, helmets and all manner of Pittsburgh mementos, many of them signed by the athlete whose number is on the item.
But Davis' interests are much broader than just the Steelers.
He has a framed jersey and picture of Austintown native Jeff Wilkins as a kicker for the St. Louis Rams, signed Cleveland Cavaliers jerseys from Mo Williams and LeBron James.
Davis also has signed jerseys from Ohio State football legends such as Archie Griffith and Eddie George. A life-sized wall sticker of Kelly Pavlik isn't far from boxing gloves signed by Arturo Gatti and Bernard Hopkins.
As for the men who have come to enjoy sports in Davis' basement, many are guys he played sports with growing up and their dads.
"We played baseball together and I remember going to his house to watch football since were 12 years old," Davis said, pointing to Frank Pugliese of Austintown, father of one of Davis' former baseball teammates.
Over the years, the boys and their fathers sometimes found it fun to watch big sporting events in Austintown-area sports bars, but a couple years ago, they decided there was a better way.
"When we go to bars, we end up in fights," Puwgliese said. "That's why we don't go to bars."
One time several years ago, a Cincinnati Bengals fan was heckling Davis and his friends while they were watching a Steelers game on the bar television. The Bengals weren't even playing, Davis said.
That's when he decided that his condo needed to have a television-room upgrade.
Four to five years of watching football at Davis' condo have been followed by two seasons in Davis' basement.
"Now we can watch the games in the peace and comfort of our own home. We have our bathroom, and the drinks are cheaper, too," Davis said.
Rick Cunningham and Pugliese are among the fathers in the group.
"We were Steelers fans when they were 1-13, huh, Flip," said Cunningham, referring to Pugliese. Both men were born and raised in Pittsburgh and coached their sons in baseball in Austintown.
"I was a Steelers fan and I raised my son to be a Steelers fan," Pugliese said.