Event kicks off celebration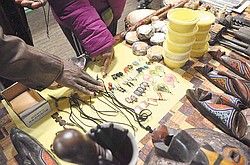 The Vindicator (Youngstown)

Photo
Shoppers examine merchandise for sale at the African Marketplace. Jewelry, clothes, books and art were among the offerings.
By ELISE McKEOWN SKOLNICK
YOUNGSTOWN
Vendors filling the Chestnut Room of Youngstown State University's Kilcawley Center aimed to give community members access to products they can't find elsewhere.
The African Marketplace is the kick-off to YSU's celebration of Black History Month, said Dr. Victor Wan-Tatah, director of Africana Studies.
Approximately 50 vendors offered jewelry, clothes, books, art, d cor and lotions at Saturday's event. Many items, Wan-Tatah noted, aren't available in area stores.
"So it's a unique opportunity, once in a year, during the celebration of African-American history month," Wan-Tatah said.
Rose Thompson of Warren found that to be true. She hadn't attended the event in the past but was told it was a good place to find shea butter.
"I love the shea butter and black soap and the oils," Thompson said. She said she can't purchase the high-quality, natural products she found at the Marketplace in stores.
"It's wonderful," she added. "I'm glad they do this."
But the event is more than just a marketplace, Wan-Tatah said.
"It's not just a place where they can sample products and buy whatever they want, and appreciate the creations of people of African descent," he said. "It's also an opportunity for people to socialize and reconnect with other people in the community and beyond."
Mikki Leftwich of Cleveland has been a vendor at the marketplace for 10 years. During that time, she's gotten to know many of the people who regularly attend.
"I like that people are friendly, and I just like the atmosphere," she said.
She sells scarves, men's ties, purses and African suits. Her products always do well at the event, she said.
Brenda Smith of Youngstown attends each year to connect with her culture and with other people.
"It's an opportunity to connect with your culture and things that maybe you're missing or you don't think about through the year or you forget about," she said.
It also reminds her of her trip to Africa.
"So it does kind of put you back in that element, at least spiritually, so that you see this is how it's done," she said.
She found items such as clothes, jewelry, soap and shea butter that she doesn't find in her everyday shopping.
"So you have to come here to get it," she said.