---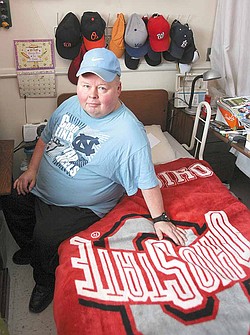 The Vindicator ( Youngstown)

Photo
53-year-old Patrick Mulrooney is a resident at the Orange Village Care Center in Masury.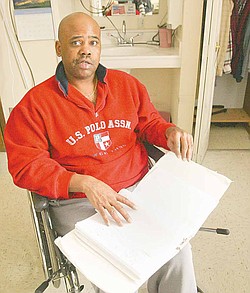 The Vindicator (Youngstown)

Photo
43-year-old Adrien German has been a resident of the Orange Village Care Center in Masury since August 2008. He is part of a growing population of nursing home residents under 65 in facilities across the country.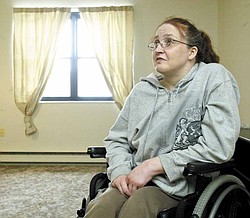 The Vindicator (Youngstown)

Photo
Darla Humphreys, right, talks with Jamie Watkins of Ohio's Long-Term Care Ombudsman office. Watkins helped Humphreys move into her own apartment after spending a year in a nursing home.
By Kristine Gill
MASURY
Adrien German calls the paralyzing gunshot to his head 20 years ago the best thing that ever happened to him.
Caught up in drugs at a young age, the now reformed crack addict and shooting victim said he's since found God.
But German calls the next two decades of his life spent recovering in nursing homes boring, lonely and terrible.
"I don't want to be living in a nursing home the rest of my life," said German, who has lived at Orange Village Care Center in Masury since August 2008. "I don't feel like I'm nursing home material just because I can't walk. My mind is still there."
At 43, German is part of a growing population of nursing home residents under 65 in facilities across the country. Many residents are admitted temporarily, recovering from trauma or surgery in a facility offering round-the-clock care, while others like German have been admitted indefinitely.
Fellow Orange Village resident Patrick Mulrooney, 53, is going on three years at the center, and though he finds the staff accommodating, he misses his freedom.
"Hopefully, it will be temporary, and I can move on into the real world," he said.
Younger residents have presented new challenges for nursing home staff used to caring for the elderly, especially because an estimated 75 percent of younger patients are mentally ill requiring different care and — in many cases — a locked facility.
Melody Wilson, Orange Village director of social services, said the center recently invested in new doors with panic release bars that make it more difficult for patients to leave the facility.
Aside from new considerations triggered by mental illness, Wilson said the staff accommodates later breakfast times for younger residents who like to sleep in and has taken a new approach to group activities, which now include video games and outings to high school basketball games.
"Nursing homes are just being used in a different way than they were 15 years ago," said Bob Applebaum, director of the Ohio Long-term Care Research Project at Miami University's Scripps Gerontology Center.
The center found that about 16 percent of nursing-home residents in Ohio were under 60 in 2009, up from 4 percent in 1994.
Applebaum predicts that 75 percent of those people are also mentally ill and that the recent closing of several state facilities for such patients likely prompted the increase of mentally ill patients in nursing homes.
John Saulitis, a long-term care ombudsman in the Mahoning Valley, said a change in approach with younger residents is part of a bigger change that could improve living conditions for residents of all ages.
"In activity rooms, you see the same shows on the TV. Some young people might like Lawrence Welk [a TV personality from the 1950s] — I don't know any of them, but they might be out there," Saulitis said. "Not all seniors like him either, but there's these assumptions."
The person-centered care approach is an idea proposed by Pioneer Network, a national advocate for the aging that aims to tailor care to the individual. Saulitis compares the concept to the unfortunate reality he refers to as the "institutional imperative," the automatic response those working at these facilities give when confronted with requests or preferences that don't fit the mold.
"Young folks are asking for Internet access or enough plugs to hook up a computer or monitor, things people in the community almost take for granted," Saulitis said. "Sometimes institutions say you can't have one because we're not allowed to have extension cords. That's the automatic response. The response should be let's find a way to make this work."
Saulitis said it's the institutional imperative that dictates bed and meal times, whether residents can have pets and when they'll receive help showering or getting dressed.
While visiting a facility one summer, Saulitis offered to buy ice cream for residents he met with and learned they hated eating it out of cups.
"I told [staff] to have some cones for them the next time," he said. "You go beyond this minimal thing. What we need to strive for is connecting to people ... People forget we're dealing with people's homes."
There is hope for those individuals — old and young — looking to transition back into the real world.
On Jan. 19, Darla Humphreys, 43, left Concord Care Center of Cortland after a year and moved into her own Hubbard apartment with help from HOME Choice, a program through the Ohio Department of Job and Family Services. It helps people who have lived in a nursing home for more than 90 days and who are eligible for Medicaid move back into the community.
For the year she was a resident at the center, Humphreys rarely left her room.
The Hubbard native didn't feel comfortable socializing with fellow residents, some of whom were twice her age and many of whom suffered from Alzheimer's, the same degenerative disease that affected her favorite uncle.
"I didn't want to see it," she said. "I'd rather sit in my room and watch TV."
Instead, Humphreys bonded with her roommate, a 33-year-old woman who, like Humphreys, used a wheelchair because of multiple sclerosis.
HOME Choice helped Humphreys purchase bedding and other essentials with a $2,000 stipend that also helps former nursing- home residents pay security deposits and the first month of rent on new apartments. They also arranged for aides to visit daily for a few hours to help Humphreys with household tasks. She now lives on her own.
"I'm just ecstatic right now," Humphreys said hours after moving into her new place.