'Filthy' Canfield house gets makeover makeover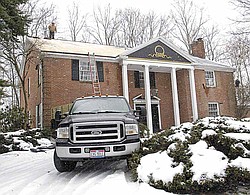 The Vindicator (Youngstown)

Photo
Workers from Nick Hornbeck Construction work on roof of a house on Brook Park Drive in Canfield on Feb. 2, 2011.
By Elise Franco
CANFIELD
The house at 535 Brookpark Drive is well-known throughout the community as "the filthy house," but that's about to change.
The home formerly owned by Georgia Holowach has been vacant since October 2009 after Holowach's daughter Betsy Spin Holowach, 33, and her now ex-husband, Brian Spin, 39, were found living there amid garbage, mold and animal and human waste.
Also living there were their two small children and at least 12 dogs and cats.
But Debra Bish, corporate vice president of marketing for First Place Bank, said residents can look forward to a completely renovated property by springtime.
First Place Bank in Canfield now owns the home through foreclosure, Bish said.
"There are some construction folks over there working on it, mainly inside the house," she said. "They are in the process of decontaminating it and getting the inside all taken care of, and the roof is being redone."
Bish said in about two weeks, the house should be ready for the Mahoning County health inspector to walk through.
"By then it will be in enough shape to have the county come in and do air quality tests so that we can move on to beginning the rehab process," she said. "We're anticipating it will take us probably until April or May to get it completely rehabbed."
Brian and Betsy Spin each pleaded guilty in April 2010 to six counts of animal cruelty and two counts of child endangering. They filed for divorce in September 2010.
Brian Spin, whose current address is on Mill Creek Boulevard in Boardman, according to court records, was sentenced to 30 days in the county jail but was released April 26.
Betsy Spin, who lives on Briarcliff Drive in Canfield, according to court records, was sentenced to 75 hours of community service. Both are on probation for one year and were ordered to pay $100 on each count and $1,000 in restitution to the Canfield Police Department, according to court records.
Canfield City Manager Joe Warino said for a while, the fate of the house was unclear, and city officials are relieved that the bank is finally able to complete the renovations.
"We were heading in the direction of having to demolish it. ... In the last couple of weeks, there's been quite a bit going on there," he said.
Bish said once the house is rehabbed, it likely will go up for sale through a Mahoning County sheriff's auction.
"From the city's perspective, it's the best-case scenario to be able to put it back up and give it a second life," Warino said.
One Canfield resident who is glad the house's problems are finally being addressed is 24-year-old Trevor Baulo.
Baulo, of Blueberry Lane, said he passes the house, which sits less than a quarter-mile from Canfield High School, every day.
"I was frustrated because it's been sitting there for so long," he said. "It's good that [the bank] is moving forward because it affects the community."
Baulo, who used to work in construction, said several weeks ago, before he knew that First Place would finish the rehab, he began inquiring about potentially obtaining the property to rehab himself.
"I sent out some e-mails and talked to the bank about their plans," he said. "I would have liked to have fixed it up, but as long as it actually gets done, that's all that matters."