Billy's Black and Gold prepares for big game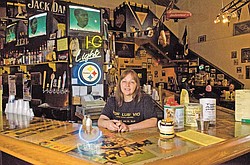 Photo
Carol Novosel, who co-owns Billy's Black and Gold sports bar in Sharon, Pa., with her husband, is ready for the crowd anticipated Sunday for Super Bowl XLV. She runs the kitchen and painted the Pittsburgh-themed murals that adorn the walls of the establishment.
Billy's Black and Gold in Sharon serves notice to Packers backers:
By Kristen Russo
SHARON, PA.
You don't need the sign above the restroom hallway to tell you you're in Steelers Country when you walk into Billy's Black and Gold.
If the name isn't clue enough, check out the plethora of Pittsburgh sports memorabilia covering the walls.
With the Steelers' third Super Bowl appearance in six years, the fans in the place likely will be as packed as the walls.
"We've been Steelers headquarters for 20 years," owner Bill Novosel said. "We're a bunch of diehards."
For past Super Bowl appearances, fans lined up at 5 a.m. to vie for a favorite table. Novosel can't say when fans will show up this year, but he predicts they will be at the door before 9 a.m.
This year, the party starts at 12:30 p.m. with the Pittsburgh Penguins hockey game playing on the bar's 36 TVs.
The game will be hard to miss, as will the sounds that will be amplified so that everyone in the bar can hear — even those in the restrooms.
Novosel said this year, he and his wife, Carol, who runs the kitchen, are replacing their cheese plate with a "Pittsburgh Plate" that includes kielbasa, sauerkraut, pancakes and pirogi.
"Cheese is Green Bay," Novosel said. "I wanted to do something that represents Pittsburgh."
Green Bay fans will have to go elsewhere; this party is for Pittsburgh fans only.
"If anyone is rooting for Green Bay, they're out the door," bartender Lynne Sablack said. "This is a Steelers bar, and we take it pretty seriously."
Pittsburgh touchdowns will be accompanied by a buzzer and disco lights. If the Steelers win, the disco lights will stay on until the bar closes.
The family-friendly establishment also has an arcade room for children and adults.
"We're just a glorified neighborhood bar, and we've found our niche," Carol Novosel said.
The Pittsburgh partying doesn't stop with Sharon, however.
At Sghetti's Italian Grille in New Castle, Pa., Super Bowl Sunday will bring with it a reservation-only "Steerlergate" indoor tailgating party.
Owner Eugene Razzano said he's hired a disc jockey to play Steelers-themed music. The DJ also will be taking requests.
There will be a vendor on site where patrons can purchase T-shirts, Terrible Towels and other Steelers memorabilia.
Razanno stressed the importance of the Steelers' winning their seventh Super Bowl.
"This will pretty much establish the Steelers as one of the best, if not the best, teams in the league. It will just be nice to see them get their seventh ring," he said.
Although the party is Steelers-themed, Razanno said Green Bay fans won't be turned away.
"It'll be fun. It'll be safe. Nobody's going to be unsafe. Everybody is welcome," Razzano said.
Sean Pregibon, owner of the Youngstown Sports Grille in Boardman, said every Super Bowl brings a lot of business, but he's expecting a larger crowd this year because of the Steelers.
"It's about heritage. It's about tradition," Pregibon said. "Being so close to a major NFL team — obviously it helps business anytime there is a local team that supports the community."
The Youngstown Sports Grille has hosted Steelers parties on Sundays throughout the season. Pregibon said at least 500 people have shown up at his bar for each Pittsburgh game day this season.
"Obviously, in this area, the Steelers have such a huge following," he said.
From 1 to 3 p.m., the bar will have a $30 buffet with all drinks included, except for top-shelf liquor. Those who buy buffet tickets also will have a chance to win prizes during the game. Other food specials include buy-one-get-one-free wings, boneless-wing platters, pirogi, pizza and ribs.