Mahoning County reviews policy on snow day closings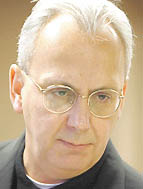 Photo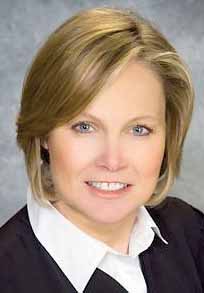 Photo
Mahoning County Juvenile Court Judge Theresa Dellick
Recent weather barrage prompts call for clarity
By PETER H. MILLIKEN
milliken@vindy.com
YOUNGSTOWN
The procedure for emergency closings of Mahoning County offices and buildings and whether county employees will be paid for the lost time are on the agenda for a county commissioners' staff meeting at 11 a.m. today.
"It's not my place to second-guess that decision," county Administrator George J. Tablack said of the
decision to close county offices and buildings Tuesday due to a forecast ice storm.
Tablack said Clark Jones, county emergency-management director, called him at 6:32 a.m. Tuesday and left him a message saying many local institutions, including Youngstown State University, had closed for the day and asking him to call back.
Tablack said he then heard on
21 WFMJ-TV that county offices and buildings would be closed before he first spoke to Jones at 6:59 a.m.
Probate Judge Mark Belinky, presiding judge of the county common-
pleas court, said he and Jones
decided the courts should close
after learning that YSU had closed.
After taking other calls, Tablack said he first spoke to John A. McNally IV, chairman of the county commissioners, concerning the closing at 7:40 a.m.
Tablack said he wasn't sure who decided to close the county government offices and buildings that house them, nor was he sure who notified the media of the closing.
However, Tablack said McNally, as chairman, would be his starting point for any discussion of potential closing of county offices and facilities.
After learning that the county courthouse and YSU were closed, Judge Theresa Dellick of the county's juvenile court said she closed her court and sent her workers home at 7:15 a.m., except for personnel in the juvenile-detention facility, who work in round-the-clock shifts regardless of the weather.
On Wednesday afternoon, Judge Dellick told The Vindicator that any work time her employees missed Tuesday would have to be made up though vacation or personal days or flextime.
"It's a day they didn't work" that wasn't a scheduled holiday, she explained.
An hour later, Judge Dellick recanted that plan, saying she couldn't demand that her employees make up the time because doing that would violate the county's weather-emergency policy.
Judge Dellick also said she believes requiring employees to make up the lost time when the employer closes the workplace would violate federal wage-and-hour law.
The judge said she believes juvenile-court employees who lost work time Tuesday will be paid for that time under county policy.
The Vindicator's broadcast media partner, 21 WFMJ-TV, reported Wednesday night that County Auditor Michael V. Sciortino estimated the snow day cost county taxpayers $200,000. Among the departments counted on that payroll were the treasurer's office, auditor's office, the recorder's office, the county administrator and children services.
As for employees directly under the commissioners' authority, Tablack deferred questions concerning their being paid for lost time Tuesday or their making up lost time to the county commissioners, who, he said, might consult with the county prosecutor's office on this matter.
Entering into this discussion will be employment law and labor contracts affecting unionized county employees, Tablack said. The juvenile court has no union, and all employees there serve at the pleasure of Judge Dellick.
"I'm sure all of this is going to be discussed tomorrow," Tablack said late Wednesday afternoon.