Yoga class meets in Liberty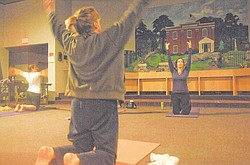 The Vindicator (Youngstown)

Photo
Jennifer Neal, background right, leads a yoga class in a stretching exercise at Liberty Township Administration Building, 1315 Church Hill-Hubbard Road. Sessions are at 7 p.m. Sundays. The other two women are unidentified. Candles and music of singing bowls and healing bells set the mood for an evening to uplift the body and soul.
By LINDA M. LINONIS
LIBERTY
Yoga increases flexibility, engages the mind and uplifts the spirit.
That's the reaction given by participants on any given Sunday night at the township administration building meeting room.
With lights dimmed, candles burning and a musical background of Tibetan singing bowls and healing bells, instructor Jennifer Neal leads yoga enthusiasts. The meeting room is transformed from its official government setting to a calm oasis where participants immerse themselves in the gentle flow of stretching.
Neal, who has taught yoga for four years, is certified by the Aerobic and Fitness Association of America.
June Smallwood, the township's director of parks and special projects, said the yoga class falls under special projects. The cost is $7 a session; Neal makes a donation to the township's Relay for Life effort.
Neal said her class is a combination of ashtanga, vinysa and amrit yoga practices. "It's a mix of power and slow flow and timing movements with the breath," she said. Sessions are for women and men.
She asks participants to concentrate on the anreit, the third eye located between the brows. "It's an aspect for the mind to focus on ... to heal yourself," she said. "Yoga exercises the body and the mind as well. It's a wonderful way to relieve stress."
Yoga is a way to "honor your body and where you're at," she said. "It opens up energy channels and keeps you moving."
In one recent class, Neal offered an almost nonstop stream of instructions for participants to follow to execute the movement and commentary on what participants might be feeling. "Expand the rib cage — feel that breath expand," she said. "Bring the breath in — exhaling and softening the muscles. It's about finding your center."
Neal instructed participants to put their left hands over their right legs and put their left hand on the floor. Then rotate to the right hand. "Feel the blood flowing — release your tension."
"Extend your legs — grab onto what's comfortable, knees, ankles or toes," she instructed, asking participants to hold the pose briefly. "This strengthens the back and the spirit."
Laura Williams of Liberty said the yoga sessions "were a beautiful experience with music." She added, "You get so comfortable you could fall asleep. It's like a hypnotic state."
Bonnie Davis of Girard said she liked how participants can go "at their own pace."
Kim and Andy Mihalic of Liberty said the sessions were a good couple of activity. "We're getting older and stiffer. This helps you be more flexible," she said.
Irina Perlman of Liberty complimented Neal as being a "wonderful teacher" and said the class "is a nice experience." She seems very conscious of the needs of the participants, she added.
More like this from vindy.com