Pounds — not pounding — led to Lyell's loss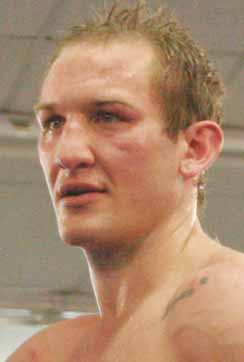 Photo
Billy Lyell wins decision over Chris Gray in Niles on Oct. 17, 2009.
Middleweight Boxer Billy Lyell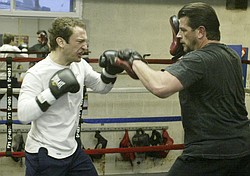 Gallery
Middleweight Boxer Billy Lyell trains for a Jan. 29, 2011 fight with Julio Cesar Chavez Jr.
By Joe Scalzo
YOUNGSTOWN
Ray "Boom Boom" Mancini is fond of saying he fought two opponents toward the end of his boxing career — the other boxer and the scale.
Billy Lyell had the same problem last weekend, only in reverse.
According to Lyell, Julio Cesar Chavez Jr. weighed in at 164 pounds on Friday — four above the middleweight limit for the bout — while Lyell weighed just 155.
That gap grew wider over the next 34 hours, as Chavez rehydrated.
"He was running all day just to get down to 164 and I was eating my brains out just to get to 155," said Lyell, who is better suited for the junior middleweight division. "This guy was 12 to 15 pounds heavier on fight day.
"Nine pounds is a lot of weight."
The promoters gave Lyell some extra money to go through with the fight, a common arrangement in non-title bouts.
But Lyell felt he paid the price in the fight, which he lost by unanimous decision Saturday night in Mexico.
The weight difference, combined with giving up three inches in height and five in reach, made it difficult for Lyell to hurt Chavez. Lyell, meanwhile, suffered a cut near his left eye in the sixth round — he got two stitches afterward — and was bleeding for the second half of the fight.
"I thought it was a close fight; I hit him as much as he hit me," said Lyell, a Niles High and YSU graduate. "He didn't hurt me, but my face looked busted up from his punches and he looked better.
"He was big. I had a hard time pushing him backward."
The three judges scored the fight 99-92, 96-94 and 98-92 for Chavez. Lyell (22-9) said he knew as soon as the fight was over that he'd lost.
"I knew going in I was gonna have to beat his [butt]," he said. "A lot of my buddies told me I outworked him, but I knew I was gonna have to drop him or knock him out.
"With the fight being in his hometown, I knew I wasn't going to get the decision."
Chavez Jr. (42-0-1), the son of the legendary Mexican fighter, will likely next fight Sebastian Zbik for the vacant WBC middleweight title.
Lyell, who has fought some of the best middleweights and junior middleweights in the world, said Chavez is on that level.
"He's good; he's not great," Lyell said. "He's not going to blow out [Miguel] Cotto or anything, but he's up there with those guys."
Lyell got home from Mexico around 8 p.m. Sunday night and was still stinging from the loss when he did this phone interview.
"I wasn't expecting to lose," he said.
"But what can you do? That's life."
Lyell knows his best weight class is junior middleweight, but he also knows his best opportunities have come at middleweight, where his small stature makes it almost impossible to beat the biggest names.
"I feel like I don't know if I'll fight again," he said. "I mean, I can't pass on a No. 1 contender, but it's tough. I'm doing good financially fighting right now, but unless you're a world champion making millions of dollars, it's not worth the punches you take and the punishment on your body."
When asked if he was serious, or if he was just talking out loud after a loss, Lyell said he wasn't sure.
"It's just something to think about," he said. "I get pretty emotional after a loss. I don't like to lose.
"I mean, I'm 26 with a college degree. I'm not sure what I'm gonna do. I was really expecting to beat him up and knock him out."
More like this from vindy.com