Poland races past Fitch in 2nd half
By GREG GULAS
sports@vindy.com
POLAND
Poland High coach Ken Grisdale readily admits his Bulldogs are desperately searching for an identity, knowing full well that they can become a good team when — not if — they can fit all of the puzzle pieces together.
Poland vs. Fitch Basketball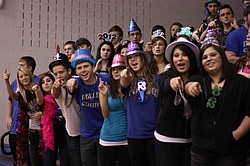 Gallery
After the Bulldogs' 54-47 victory over Austintown Fitch at the Poland Gymnasium on Friday, the Falcons only wished they had waited until after the New Year to piece together any of those so-called missing links.
Colin Reardon had a game-high 23 points, Jerry Lawman added 12 markers and Jacob Wolfe 11 for the Bulldogs (3-3, 2-1 All-American Conference).
"Our hard work is finally paying off for us and the good thing about it is that this was a conference game as well," Lawman said. "It took us a little over three quarters to get going, but we were able to kick it up a notch, much like we do in our practices in the final period."
Winners of three straight, the Falcons (3-4, 2-1) got four points from Will Mahone and three each from Dan Chepke and Trevor Yacovone, outscoring the Bulldogs by a 14-9 count to forge a 24-19 halftime advantage.
Reardon scored nine points after the break as the Bulldogs pulled to within 36-35 after three periods.
"We've gone from a run-and-gun type offense to a half-court, possession-type team," said Reardon. "We're a deep team and play as many as 10 or 11 guys every game.
"That being said, Fitch played an excellent game tonight so to defeat them, especially on our own court is a big confidence-booster going into the New Year's portion of our schedule."
Fitch's Nick Williams then scored the first five points of the final period to increase the Falcons' lead to 41-35, but five points by Wolfe and a bucket by Reardon keyed a 9-0 Bulldogs run and a 44-41 lead with a little over five minutes remaining.
They never trailed again.
"We're just now figuring out who we are," said Grisdale. "We're learning a little more about ourselves each and every game and believe me that has really been the hardest thing for me in my 19 years here as head coach."
Nick Williams had a team-high 15 points for the Falcons with Mahone adding 14.
"We also lost some of our energy after halftime and that has been our biggest problem thus far this season," Fitch coach Brian Beany said. "I almost wish that we could play right through halftime without taking a break."