Poland Shepherd hosts Live Nativity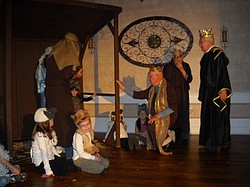 Photo
Neighbors | Submitted .The three kings gave their gifts of gold, frankincense, and myrrh to Joseph as they arrived at the manger.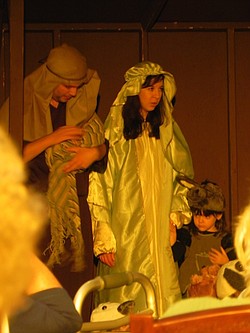 Photo
Neighbors | Sarah Foor .During a scene in the Dec. 15 Living Nativity, Joseph and Mary tended to their new son. Shane Brubant (left), as Joseph, held the boy, as Mary, or Amy Anzevino, welcomed visitors to the manger. The small donkey near Mary's side is Anzevino's daughter, Mya.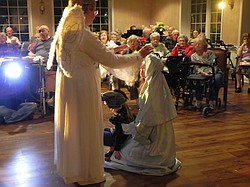 Photo
Neighbors | Sarah Foor .During Poland Shepherd of the Valley's Dec. 15 Living Nativity, residents and staff helped bring the story of the birth of Jesus to life. As the crowd looked on, angel Maria Zahonyi (left) told Mary (Amy Anzevino, right) that she was destined to give birth to the savior..
By SARAH FOOR
The residents at Shepherd of the Valley Poland, along with family and friends, watched the story of the birth of Jesus on Dec. 15.
The fifth annual Live Nativity event called on the facility's residents, staff and their family members to bring the story to life.
Nurse Patricia Ahlswede, who acted as a narrator during the production, said the atmosphere is what makes the show so special.
"It's a Christmas tradition for many people because it is such a family-oriented event. In the show, we have so many people of our Shepherd of the Valley family, as well as extended family, joining in to participate. It's a wonderful group effort that makes the production really wonderful," Ahlswede said.
The facility's Live Nativity stayed true to the story of Jesus' birth as written in the Bible. As the tale unfolded, the actors were silent as scripture was recited, leading the group to a small manger constructed in Shepherd of the Valley's activity room. Guests were invited to sing traditional carols throughout the tale.
By the final scene, Mary and Joseph celebrated the birth of Jesus as shepherds, wise men, angels and animals looked on. The cast included Sheba, a therapy dog at the facility, as an angel, and the children of staff members as the manger animals.
Ahlswede said Poland Shepherd of the Valley hosts the event each year because of its strong Christian tradition.
"We're glad that it is a way to bring the community together and remind everyone of the true meaning of Christmas," she said.
More like this from vindy.com